Back to NEWS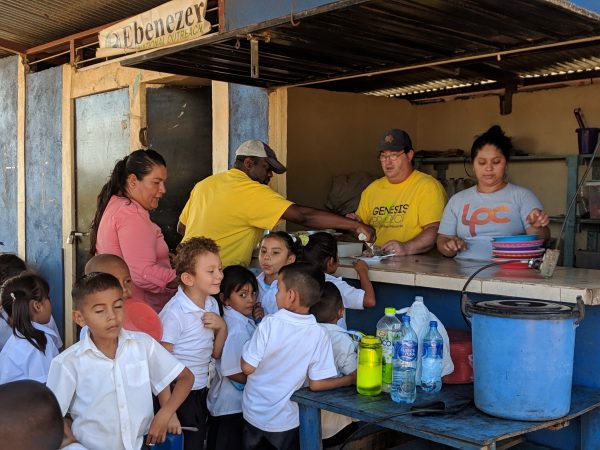 Polydeck Serves in Nicaragua
Polydeck's vision is "to serve our customers and stakeholders with excellence to achieve profitable growth which enables us to care for people in a way that honors God." Read about how we came together to make an impact in Nicaragua.
On February 3rd, 2019, a team of seven Polydeck employees - Alex Aylor, Tukuli Hall, Kenny Henderson, Robert Johnson, Steve Parsons, Clint Shuford and Joey Vickers – flew to Managua, Nicaragua. Every year, Polydeck employees have the opportunity to travel to Central America to work with volunteers from Chosen Children Ministries, where we care for people in need. This particular trip's purpose was to gauge the safety of Managua due to the political unrest in the area over the past year. The team that went on this trip was happy to report they felt very safe and noticed very few differences from previous trips. We spoke with Clint Shuford, Vice President of Finance, about his experience in Nicaragua:
Polydeck's 2019 Mission Trip in Nicaragua
Clint was excited to visit Mount Zion barrio, a developing village, for the third time. After "adopting" Mount Zion barrio in 2014, Polydeck has continually supported this village, both financially and through short-term mission trips. "The weather was beautiful—sunny, with highs in the 80s and a slight breeze, which made working outside with the locals that much more enjoyable," Clint said. "Everyone was friendly and accommodating, and I felt like I gained multiple new best friends."
The team was able to distribute food and supply bags to the support staff, visit and support businesses sponsored by the Genesis Project in the Mount Zion and The Flaggs barrios, as well as serve daily lunches at the Mount Zion school. The team also worked on a few construction projects, including building a new cooking shelter, installing new playground equipment at the Mount Zion school, and constructing a new shelter at the Mount Zion church. According to Clint, everyone he met and saw there was in good spirits and seemed to be joyful, happy, and especially thankful for Polydeck's service during this hard time in their country.
The highlight of Clint's trip was being able to help with the distribution of the "Genesis Project Yellow Bags." Polydeck started the Genesis Project alongside Chosen Child Ministries in 2014 to help individuals and families by providing needed materials, like school supplies, and uniforms in bright yellow bags. "When we distributed these yellow bags, you could tell how grateful everyone was for these supplies. It makes you stop and really appreciate the simple things in life, and how fortunate we are to have them." Clint added the residents of the barrios often-times would not be able to get these supplies outside of the Genesis Project.
Polydeck Realizes the Benefits of Corporate Philanthropy
Upon returning, Clint was excited to share his story with others at Polydeck: "Other than the joy of helping and caring for people in need, there is almost always a special moment for each person who goes, whether emotionally or spiritually. That is truly one of the most rewarding things for me to witness. It affects the rest of your life."
Polydeck will be conducting a second trip to Nicaragua in August of this year. If you are interested in participating or have questions about it, please reach out to the Caring Team at your convenience.