Back to NEWS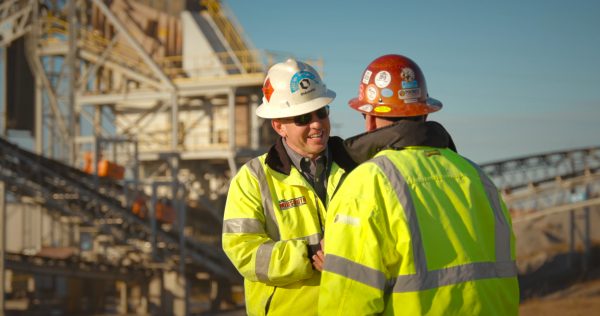 Together Strong
Polydeck is excited to launch the 'Together Strong' campaign as a mantra that captures the belief that providing high-quality products and caring for people are the bedrock of our success.
Innovation and taking care of customers has always been at the root of Polydeck's success. 2019 marks the beginning of the next 40 years of Polydeck's commitment to care and innovation. To go along with the launch of a new brand and website, Polydeck is excited to launch the 'Together Strong' campaign as a mantra that captures the belief that providing high-quality products and caring for people are the bedrock of our success.
"The thing I love about Polydeck are the long-term relationships I have established," says David Stewart, Senior Production Manager for Midsouth Aggregates.
David and Polydeck have been working together for years, building trust through problem-solving and reliable support as David has moved his way up from a small-plant manager, to a medium-plant manager, to a large-plant manager. "Everywhere I go, I put Polydeck in, and it's been hugely successful." Trust and dependability are key to long-lasting relationships like the one David has with Polydeck. "I know I can depend on [Polydeck] for service, support and innovations [and] to get me the products I need when I need them."
Tommy Daniel, a Polydeck Territory Manager, is there to make sure David and his team have the products they need to make the right spec, fast. "My job is interacting with the customer. I like to be in the field, climbing around in the plant, climbing around in the screens – that's where I'm the happiest."
And, that's where the job gets done. Tommy is committed to making sure David has the screens he needs, when he needs them, that overcome the problems David and his team are facing on a daily basis. "There's no other company that has over a 1,000 dies and options for panels that can meet any application need." Not only that, Tommy says, "we can bring problems from our customers to our in-house application engineers, and they can create custom solutions for these problems."
Being able to design the right panel is one thing, being able to help our customers solve the bigger picture problems is what makes Polydeck special. Polydeck invests in the right people with the right experience so that we can say with confidence that our employees are industry experts. From our sales team to our application engineers, Polydeck is able to look beyond the products we manufacture to see how we can help solve the overarching problems our customers face and save them time and money while producing more product on spec with less downtime. In David's case, he says, "I have seen an increase of 8-10 times more wear life on [our] high abrasive application since using Polydeck."
One of David's Plant Manger's, Gary Watkins said, "When I came to [Midsouth Aggregates], I was very relieved to see that we were using the Polydeck product. Changing wire cloth is very cumbersome and involves more employees. I found out how easy it was to handle the Polydeck screens versus two or three people handling the wire [screens]."
Less downtime is key to producing more product, and Polydeck's modular design and Pipetop Frame System allows any plant the ability to reduce downtime in between changeovers or during a crisis. And, we all know, less downtime equals more product.
You see, we're not just interested in what we can get from David, we're invested in his future. His success, his employee's success, and Midsouth Aggregates' success. David says, "It's important for me to work with people who have the same work ethic I do." We couldn't agree more. The work connects us, but our customer's success is what drives the heart behind our mission – to partner with our customers and employees with a focus on care and performance in a way that honors God. David sums it up perfectly, "I know Polydeck cares. I see it in the people. I see it in the product. And, I see it in the way they do business. My relationship with Polydeck goes beyond business. We've become good friends."
2019 is dedicated to focusing on what makes us great; our employees, our suppliers and our customers. We believe that together we are successful. Together we can do more. Together we're strong.