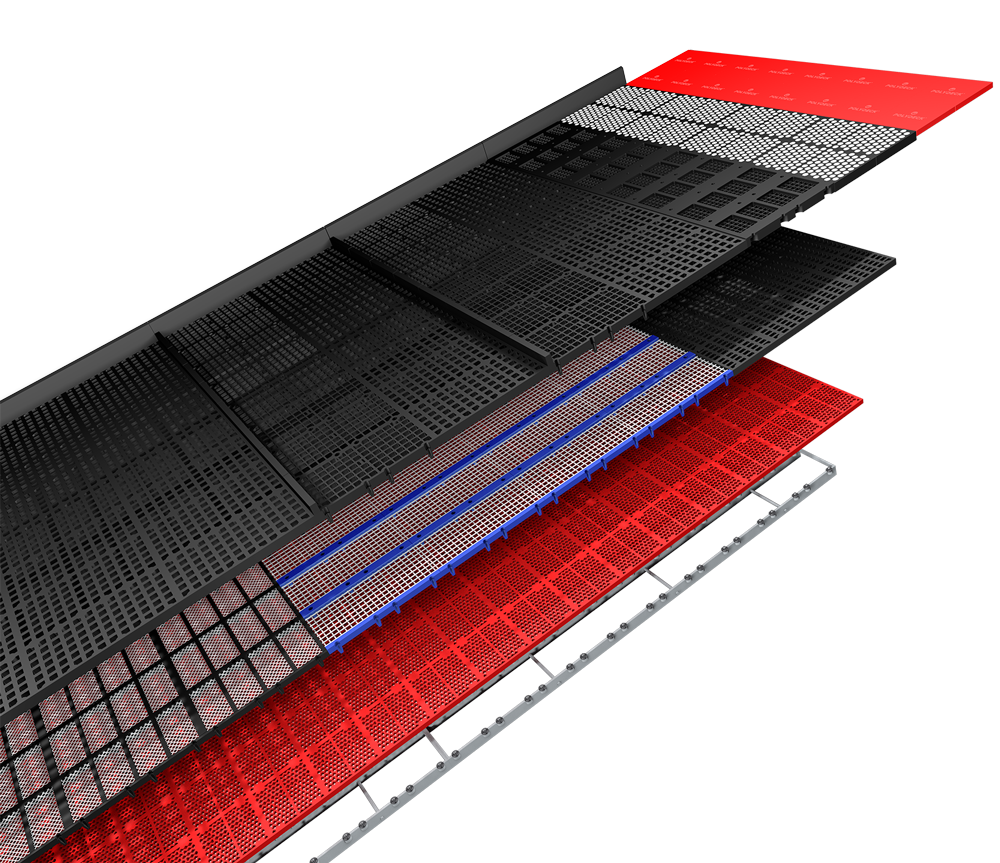 Polydeck is thrilled to announce the winner of its first ever Dream Deck Sweepstakes valued at over $25,000!
As part of the company's commitment to serving the Mining industry with excellence, the first place winner will receive their dream deck including free screen media to outfit the deck, side wearing plates and other items deemed necessary by a Polydeck sales representative.

Other items available in the giveaway may include but are not limited to protective items and accessories needed for the winner's specific application amounting to an estimated retail value of more than $25,000.

First Place Winner: Bill Cockins, LaFarge Mosport
Runner Ups
Two other giveaways in the form of free steel will be given to our two runner ups valued at over $6000!

Second Place Winner: Dan Meng, JJC 9 Mile Pit
Third Place Winner: Mary Lewis, Tuffco Sand & Gravel
Image shown here is not representative of actual deck to be given away in sweepstakes.
HOW
DO I ENTER?

To enter, simply complete the form below between August 1 and September 30. That's it!
One entry per deck per location is allowed. Multiple entries are allowed per person but does not increase your chances to win. To be eligible to win, submit your entry between August 1, 2022 at 12:01AM EST and Sept 30, 2022 at 11:59PM EST. Participants must provide all required information specified on the Sweepstakes Website to enter and win.
ENTER NOW

WHO
SHOULD ENTER?

Current and non-current customers are ALL welcome to enter!
Entrants are not limited to current customers. If you are experiencing screen breakages, unplanned downtime, inefficiencies caused by blinding on your screen media, and other barriers keeping you from meeting your production goals, this giveaway is the best option for you to minimize your costs by simply filling out our entry form below.
ENTER NOW

WHY
SHOULD I ENTER?

Efficiency. Quality.
Performance Guaranteed!
Polydeck is known throughout the Mining industry as the provider of the highest quality injection-molded modular screen media. Polydeck's ability to design custom panels is incomparable in the industry and may be exactly what your application needs. Coupled with Polydeck's patented PIPETOP stringers with ½" borders, the winner is guaranteed to achieve an efficiency not seen before. Plus, you have nothing to lose. This giveaway is backed by Polydeck's Performance Guarantee.
ENTER NOW

WHAT HAPPENS IF I WIN?
Acceptance of the giveaway grants Polydeck representatives permission to come on site in person to confirm that all entry information is valid. Polydeck representatives will also advise, consult and analyze your application to ensure the right products are ordered and installed properly.
Acceptance of the giveaway grants Polydeck the permission to use the winner's entry, name and situation for advertising, social media, promotion, case studies, interviews, and photography without further compensation or remuneration unless prohibited by law.
POLYDECK DREAM DECK SWEEPSTAKES OFFICIAL RULES
NO PURCHASE IS NECESSARY TO ENTER OR WIN. A PURCHASE OR PAYMENT WILL NOT IMPROVE YOUR CHANCES OF WINNING. YOU HAVE NOT YET WON. SOME RESTRICTIONS APPLY. ODDS OF WINNING DEPEND UPON THE TOTAL NUMBER OF ELIGIBLE ENTRANTS. OPEN TO ALL LEGAL RESIDENTS OF THE 50 UNITED STATES, THE DISTRICT OF COLUMBIA, AND CANADA (EXCLUDING QUEBEC) MEETING THE ELIGIBILITY CRITERIA SET FORTH IN THESE RULES. VOID WHERE PROHIBITED OR RESTRICTED BY LAW. YOU MUST HAVE ACCESS TO THE INTERNET TO ENTER.

The Polydeck 2022 Dream Deck Sweepstakes ("Sweepstakes"), offered by Polydeck Screen Corporation, a South Carolina (USA) corporation (the "Sponsor"), is offered only in the United States and Canada (excluding Quebec) and is open only to those holding a valid MSHA Mine Identification number at the time of entry. A MSHA Mine Identification Number is only applicable to United States entries.

The Sweepstakes begins on August 1, 2022, and ends on September 30, 2022. The Sweepstakes is subject to all applicable, federal, state, provincial and local laws and regulations, and is VOID wherever prohibited or restricted by law. Some restrictions and conditions apply, please read these rules carefully in their entirety.

Please note the arbitration provision set forth below, which requires, except where and to the extent prohibited by law, that you arbitrate any claims you may have against the Sponsor on an individual basis. Arbitration on an individual basis means that you will not have, and you hereby waive and agree not to seek, the right for a judge or jury to decide any claims against the Sponsor, and that you may not proceed in a class, consolidated, or representative capacity.

1. Eligibility
To be eligible to enter the Sweepstakes or be awarded the prize(s), a Participant must fully comply with these Official Rules and be a legal United States or Canada (excluding Quebec) resident who is at least 21 years of age on the date of Entry. The Sweepstakes is limited to entrants in the Aggregate Screening Industry who possess a valid U.S. Mine Safety & Health Administration (MSHA) mine identification number ("MSHA Mine ID"). A MSHA Mine Indentification Number is only applicable to United States entries. Aggregate Screening Industry dealers, agents, and OEMs are not eligible to win. Employees, as well as their immediate family members (parents, children, siblings, spouse) and others living in their same household, whether related or not, of Polydeck Screen Corporation are not eligible to enter. Any Entry submitted by any ineligible person(s) will be void. However, all such individuals not otherwise excluded shall be referred to herein as "Entrant(s)" or "Participant(s)."
A person cannot be an Entrant or Winner (a) whom U.S. persons or entities are restricted from doing business with under regulations of the Office of Foreign Asset Control ("OFAC") of the Department of the Treasury (including those named on OFAC's Specifically Designated and Blocked Persons List) or under any statute or executive order or (b) who is acting, directly or indirectly, for or on behalf of any such person. All federal, state, provincial, and local laws and regulations apply. Individuals will be required to provide valid identification and may be required to provide a valid FEIN or taxpayer identification number to claim a prize. Canadian Participants will also be required to answer a mathematical skill-testing question to claim a prize, as explained below. Unless otherwise stated within these Official Rules, all federal, state, provincial, and local taxes are the responsibility of the Winner.

2. Sponsorship
The Sponsor is Polydeck Screen Corporation (sometimes also referred to herein as "Polydeck"), located at 1780 Dewberry Road, Spartanburg, South Carolina 29307.

3. Agreement to Rules
By participating in the Sweepstakes, you agree to be bound by these Official Rules. Please read these Official Rules before entering the Sweepstakes. Failure to comply with these Official Rules may (in the sole discretion of Sponsor) result in disqualification from the Sweepstakes. You must meet the eligibility requirements and follow the Official Rules regarding participation as set forth herein. Sponsor reserves the right to cancel, modify, or suspend the Sweepstakes at any time in its sole discretion.

4. Entry Period
The Sweepstakes Entry Period will begin on August 1, 2022, at 12:01AM EST and ends on September 30, 2022 at 11:59PM EST ("Entry Period"). To be eligible to win, Entries must be received by the Sponsor during this listed time period.

5. How to Enter
NO PAYMENT OR PURCHASE NECESSARY. The Sweepstake's start and end time is as listed above, the Entry Period. Only those Entries received during the Entry Period will be valid. Sponsor will be the official timekeeper for the Sweepstakes.
To enter, complete the form on the Sweepstakes' landing page [https://polydeck.com/dreamdeck/] (the "Website"). A valid entry will supply the requested information, including Entrants' names, email addresses, phone numbers, company name, and MSHA MINE IDs. Entrant may also be requested to supply their job titles, site names and cities when entering. Once Entrants insert their information onto the Sweepstakes landing page, they must click on the "Enter" button to effectuate a valid entry (an "Entry"). Participants must provide all required information specified on the Sweepstakes Website to enter and win.
Multiple entries are allowed per person, per MSHA MINE ID, but limited to one (1) Entry per specific deck locations with a maximum number of Entries for any MSHA MINE ID into this Sweepstakes (the "Entry Limit") of ten (10) Entries.
Participants may not use multiple MSHA MINE IDs, email addresses, identities, logins, devices, or any other tactics used in an effort to receive Entries over the Sweepstake's Entry Limit. To receive valid Entries, Participants must provide a valid MSHA MINE ID and email address for which the Participant is the authorized owner. A MSHA Indentification Number is only applicable to United States entries. Multiple Participants may not share the same MSHA MINE ID, deck location, nor email address. In the event of a dispute as to the identity of any Participant, the authorized holder of the MSHA MINE ID or email address account used to enter will be deemed to be the Participant. Potential Winners and/or Winners (as defined below) may be required to show proof of being the authorized holder of such MSHA MINE ID or email account. Any Entries connected to an invalid, non-working, or inactive MSHA MINE ID or email address, or linked to an authorized account holder other than Participant, are void and ineligible to win. Any conduct in violation of this Section is strictly prohibited and will void all Entries for that Participant and may result in disqualification of Participant from the Sweepstakes, at Sponsor's discretion.
All Entries must be submitted by an individual Participant to be valid. Use, or attempted use, of any robotic, automated, programmed, mechanical, or other non-manual Entry methods will void all Entries for that Participant and will result in disqualification of the Participant from the Sweepstakes, at Sponsor's discretion. No copies, facsimiles, or other mechanical or electronic reproductions of Entries will be accepted. Sponsor has the sole right and discretion to decide that Participant used or attempted to use any such prohibited automated Entry methods.

6. Prizes
Sponsor will award one (1) "Grand Prize" of a free deck stringers-jigged or bundled, deck frame up to 8'x20' including screen media to outfit the deck, side wearing plates and other items deemed necessary to the make use of the Grand Prize by Sponsor. The other items may include but not be limited to protective items and accessories needed for the Grand Prize Winner's specific application of the Grand Prize. The estimated total retail value of the Grand Prize amounts to $25,000 USD.
Sponsor shall also award two (2) other Prizes in additional drawings, these runner up Prizes shall consist of stringers, ferrules, and other steel components necessary for a machine conversion up to three (3) size 8x20 screen decks. The estimated total retail value of the runner up Prizes each amount to $6,000 USD respectively. No Prize substitution or cash equivalent of Prizes except at the sole discretion of Sponsor. Hereinafter, the Grand Prize and the two (2) runner-up Prizes shall be collectively referred to as the "Prizes". One Prize per MSHA MINE ID, if you are a Winner of one Prize you are ineligible to win any of the others.
Any costs (including shipping) in excess of the stated maximum retail value for a Prize shall be the sole and exclusive responsibility of the Winner. The Winner must schedule delivery no later than one (1) month following the award of the Prize and delivery must occur and be completed within six (6) months of confirmed notification, unless Sponsor is unable to meet those deadlines, in which case Sponsor will effectuate the delivery when feasible without undue additional expense.
None of the Prizes includes installation services by the Sponsor and each Winner is responsible for its own installation of the respective prize, hereby waiving any claim against Sponsor resulting from any improper or defective installation.
The Prizes are backed by Sponsor's Performance Guarantee but shall be "AS IS, WHERE IS AND WITH ALL FAULTS." SPONSOR DOES NOT MAKE OR PROVIDE AND HEREBY DISCLAIMS ANY REPRESENTATION, GUARANTEE, OR WARRANTY, EXPRESSED OR IMPLIED, IN CONNECTION WITH THE PRIZES BEYOND ITS PERFORMANCE GUARANTEE AND ACCEPTS NO OTHER LIABILITY OR RESPONSIBILITY REGARDING THE CONSTRUCTION OR CONDITION OF THE PRIZES. SPONSOR DOES NOT WARRANT THAT THE PRIZES ARE OF MERCANTILE QUALITY OR THAT THEY CAN BE USED FOR ANY PARTICULAR PURPOSE. NO OTHER EXPRESS WARRANTIES ARE GIVEN AND NO AFFIRMATION OF SPONSOR BY WORDS AND/OR ACTIONS WILL CONSTITUTE A WARRANTY.
Prizes will be delivered as set forth in Section 8 of these Rules.

7. Odds
The odds of winning depend on the number of eligible Entries received during the Entry Period.

8. Selection and Notification of the Winner
Winners will be randomly drawn from among all eligible Entries received. The drawings for the Prizes, including the Grand Prize, will occur on or after the end of the Entry Period. Sponsor will conduct the drawing and awarding of the Prizes. Once confirmed and verified as eligible to win, a potential winner is referred to herein as a "Winner."
Winners will receive a phone call and email notifying them that they have won no later than October 31, 2022. Sponsor shall make 5 attempts to notify the Winners. After the notification or attempts thereof, the Winners must claim Prizes within 1 business day of the date the last notification or attempt thereof, or a new Winner will be selected randomly from the remaining Entries.
In order to claim a Prize, Winners are required to execute and return a declaration of eligibility, liability release, publicity release (where permitted by law) (collectively, the "Declaration(s)") within 5 days of claiming the Prizes. In the event of non-compliance with requirements, you decline acceptance of a Prize, Sponsor is unable to contact you, of if Prize notifications are returned as undeliverable, then Prizes will be forfeited (in Sponsor's sole discretion) and an alternative Winner will be selected. It is your sole responsibility to check junk/spam folders for email notifying you of eligibility to collect a Prize. By accepting the Prize, except where prohibited by law, Winners agree to the use of their names and/or photographs for advertising/publicity purposes without further compensation or notice. Prior to receiving any Prizes, a Winner must prove their identity, MSHA MINE ID, and may be requested to complete an IRS Tax Form.
If a Potential Winner is a resident of Canada, such Potential Winner will be required to correctly answer Sponsor's mathematical skill-testing question without any assistance in order to be verified as a Winner and to be eligible to receive a Prize (the question will be posed as part of the Potential Winner's Declaration). If a Potential Winner is a Canadian resident and fails to answer the skill-testing question, the Potential Winner shall be disqualified from the Sweepstakes and an alternate Potential Winner may be randomly selected, at Sponsor's sole discretion, from among the other eligible entries received.
Sponsor will determine all details of the Prizes in its sole discretion. Winners are solely responsible for all other costs incurred in claiming and using the Prizes. All unspecified expenses, including taxes and installation, are the Winner's sole responsibility. All decisions of Sponsor are final.
Sponsor shall have the right, but not the obligation, to make any deductions and withholdings that Sponsor deems necessary or desirable under applicable federal, state, provincial, and local tax laws, rules, regulations, codes, or ordinances. Sponsor makes no guarantee that the Internal Revenue Service (IRS) will accept that the value of Prizes for the purposes of determining any applicable tax obligations that may be due for the Winners. Consult your tax advisor. FEDERAL, STATE, PROVINCIAL,AND LOCAL TAXES, IF ANY, ARE YOUR SOLE RESPONSIBILITY. Neither Sponsor nor any of its agent, employees, affiliates, subsidiaries, or contractors shall have responsibility or liability for cancellation, delays, or any other changes in the Sweepstakes or of any sweepstakes, and its agents, employees, affiliates, subsidiaries, or contractors are not responsible or liable for any expenses incurred as a consequence thereof.
Following verification of Winners, Sponsor will contact Winners by telephone and/or email to discuss project specifications for each of the three prize Winners. Sponsor will determine the specific components that best fit each Winner's deck project (utilizing the information that each Winner provides to Sponsor concerning its respective deck project and needs and based upon the amount of the prize won by the Winner. Sponsor will provide each Winner with a summary of the materials to be provided and the estimated retail value of the materials. Sponsor will work with each Winner to determine a delivery date and method. The Prizes do not include installation.
If you are found to be ineligible or not in compliance with these Official Rules, decline to accept the Prize, Sponsor is unable to contact you, you will forfeit a Prize. The right to receive a Prize is non-assignable, non-transferable, and no Prize substitution, exchange or other equivalent will be allowed, except by Sponsor in its sole discretion.

9. Rights Granted by the Entrant
By entering the Sweepstakes, you, and on behalf of your heirs executors, and administers, agree: (a) to be bound by these Official Rules and by all applicable laws and decisions of Sponsor which shall be binding and final; (b) to waive any rights to claim ambiguity with respect to these Official Rules; (c) to waive all of your rights to bring any claim, action, or proceeding against any of the Released Parties in connection with the Sweepstakes, any Entries, or a Prize; and (d) to hereby forever and irrevocably release, defend, indemnify, and hold harmless the Released Parties (as defined in Section 11 below) from any and all claims, lawsuits, judgments, causes of action, proceedings, demands, fines, penalties, liability costs and expenses (including, without limitation, reasonable outside attorneys' fees) that may arise in connection with: (i) the Sweepstakes, any Prize, the Entries, or any other activities engaged in in connection with the Sweepstakes, the Sweepstakes Entries, or any Prize, including but not limited to your participation or inability to participate in the Sweepstakes, obtain or use any Prize, or any other activity, (ii) typographical or printing errors in these Official Rules or in any Sweepstakes related materials, including but not limited to any instructions, advertising or promotional materials (iii) any change in the Sweepstakes (or any component thereof), including but not limited to, due to unavailability, or due to reasons beyond Sponsor's control, (iv) any interruptions in or postponement, cancellation, or modification of the Sweepstakes, (v) human error, (vi) incorrect or inaccurate transcription, receipt or transmission of any Sweepstakes Entries, (vii) any technical malfunctions or unavailability of any other website, mobile application, telephone network, computer system, computer online system, computer timing and/or mechanism, computer equipment, software, or Internet service provider, or mail service utilized by any of the Released Parties or by you, (viii) interruption or inability to access the Website, an app or other platform, relating the Sweepstakes, or to submit any Sweepstakes Entries, or to receive a Prize, (ix) any lost/delayed data, voice, or video transmissions, omissions, interruptions, defects, and/or any other errors or malfunctions, (x) any late, lost, stolen, mutilated, misdirected, illegible, delayed, garbled, corrupted, destroyed, incomplete, undeliverable or damaged Sweepstakes Entries, (xi) any wrongful, negligent, or unauthorized act or omission on the part of any of the Released Parties or of any other third party, (xii) lost, late, stolen, misdirected, damaged or destroyed Prizes (or any element thereof), or (xiii) the negligence or willful misconduct by you or of any third party.

By accepting a Prize, you agree to allow Sponsor and each of its affiliates or designees, to use your name, company name, biographical information, photos and/or likeness, as well as your Sweepstakes Entries, in trade or commercial advertising, for publicity purposes, at any time or times, by posting you as a Winner on Sponsor's web site or otherwise publishing your award in other media, including live television, industry publications or social media without notice, review or approval and without additional compensation except where prohibited by law. If requested by Sponsor you agree to provide any requested consents.
You consent to Sponsor contacting you via your phone number and email concerning the Sweepstakes, including notifying you if you are a Winner of a Prize and/or in order to promote the Sweepstakes. You warrant, represent, and agree that you have the right to provide your phone and email address to Sponsor in connection with any Sweepstakes Entries and the Sweepstakes, and to have Sponsor contact you at such phone number and email address, even if such phone number or email address is provided by an employer.
You expressly consent to Sponsor and each of their partners and affiliates' use of your contact information, including your phone number or email address, for marketing and other promotional purposes.
If at any time you do not wish to receive marketing communications, you may opt out from receiving these communications at any time by simply replying REMOVE or UNSUBSCRIBE to any email message or following the provided opt-out instructions on the Sponsor's privacy statements. If at any tme you desire to withdraw your consent to our use of your contact information for publicity purposes relating to the Sweepstakes or other contests, you may opt-out of such use by notifying us in writing. Sponsor shall have ten (10) days to implement such requests as they relate to email, phone calls or text messages, in accordance with United States federal law.

10. Terms & Conditions
By entering, Entrants accept and agree to the Official Rules and the decisions of Sponsor, which are final and binding in all respects. Sponsor reserves the right, at its sole discretion, to disqualify any individual it finds to be tampering with the Entry process or the operation of the Sweepstakes, to be in violation of the Official Rules, or to be acting in a disruptive manner, or with the intent to annoy, abuse, threaten or harass any other person. Any activities intended to disrupt or interfere with the proper play of the Sweepstakes or defraud Sponsor in any way will be prosecuted to the fullest extent of the law. The Sweepstakes is subject to all applicable laws of the United States and Canada (excluding Quebec).
CAUTION AND WARNING: ANY ATTEMPT TO DELIBERATELY DAMAGE OR UNDERMINE THE LEGITIMATE OPERATION OF THE SWEEPSTAKES INCLUDING ANY USE OF NON-PUBLIC INFORMATION OR OTHER CHEATING IS A VIOLATION OF CRIMINAL AND CIVIL LAWS. SHOULD SUCH AN ATTEMPT BE MADE, SPONSOR RESERVES THE RIGHT TO SEEK DAMAGES OR OTHER REMEDIES TO THE FULLEST EXTENT PERMITTED BY LAW.
You agree that these Official Rules are severable. If any term or provision is declared invalid or unenforceable, in whole or in part, that term or provision will not affect the remainder of these Official Rules. These Official Rules will be deemed amended to the extent necessary to make these Official Rules enforceable, valid, and, to the maximum extent possible, consistent with applicable law and consistent with the original intention of the parties; and the remaining terms and provisions will remain in full force and effect. If any provision of these Official Rules is found by a court of competent jurisdiction to be invalid, Sponsor will amend or replace such provision with one that is valid and enforceable and which achieves, the extent possible, the original objectives and intent of Sponsor as reflected in the original provision. The invalidity or unenforceability of any provision of these Official Rules does not affect the validity or enforceability of any other provision of these Official Rules, which will remain in full force and effect.
If Sponsor fails to insist that Entrant perform any of Entrant's obligations under these Official Rules, or if Sponsor does not enforce its rights against Entrant, or if Sponsor delays in doing so, that will not mean that Sponsor has waived its rights against Entrant and will not mean that Entrant does not comply with these obligations. If Sponsor does waive a default by Entrant, Sponsor will only do so in writing, and that will not mean that Sponsor will automatically waive any later default by Entrant.

11. Limitation of Liability
By participating, Entrant agrees to release and hold harmless Polydeck Screen Corporation and its respective officers, directors, agents, employees, licensors, and assigns (collectively, the "Released Parties") from any and all liability arising from participating in the Sweepstakes and/or acceptance, possession or use/misuse of Prize, regardless of the causes of action the claims may be founded under, including but not limited to, whether in whole or part under alleged product liability, negligence, gross negligence, or willful misconduct of any of the Released Parties. Released Parties are not responsible for any inability of a Winner to use a Prize once a Prize has been delivered to a Winner. Released Parties are not responsible for any incorrect or inaccurate information, including, without limitation, that which is caused by the Sponsor's Website's users, tampering, hacking, or by any of the equipment or programming associated with or utilized in the Sweepstakes or by any technical or human error which may occur in the processing of Entries in the Sweepstakes. Released Parties assume no responsibilities for any error, omission, interruption, deletion, or defection, delay in operation or transmission, communications line failure, theft or destruction or unauthorized access to, or alternation of the Website or Entries in processing the Sweepstakes Entries. Released Parties are not responsible for any problems or technical malfunction of any telephone network or lines, computer on-line systems, servers, or providers, computer equipment, software, failure of email or Entrants on account of technical problems or traffic congestion on the Internet or at any web site associated with the Sweepstakes. Released Parties are not responsible for user cheating or fraud by any Entrants. If, for any reason, the Sweepstakes is not capable of running as planned, including without limitation, unauthorized intervention, fraud, technical failures or any other causes beyond the control of Sponsor which, is in Sponsor's sole discretion, could corrupt or affect the administration, security, fairness, integrity or proper conduct of the Sweepstakes, Sponsor may, in its sole discretion, cancel the Sweepstakes and return/refund all Entries or select the Winner in a random drawing comprised of all Eligible Entries received prior to (and/or after, if appropriate) the action taken by Sponsor. Sponsor reserves the right at its sole discretion to cancel, terminate, modify, or suspend the Sweepstakes.

12. Disputes
PLEASE READ THE FOLLOWING SECTION CAREFULLY BECAUSE IT MAY REQUIRE YOU TO ARBITRATE CERTAIN DISPUTES AND CLAIMS WITH SPONSOR AND LIMITS THE MANNER IN WHICH YOU CAN SEEK RELIEF FROM SPONSOR: Each Entrant hereby forever discharges, releases, and agrees to defend, indemnify and hold harmless the Released Parties, from any damage, injury, death, loss or other liability, either at law or equity, whether known or unknown, asserted or non-asserted, that may arise from or in any way relate to participation or inability to participate, in the Sweepstakes, or the awarding, acceptance, use or misuse of any Prize, sponsorship or marketing benefits provided under the Sweepstakes. Any and all disputes, claims, and causes of action arising out of or in connection with this Sweepstakes, including but not limited to the drawing of, or use or inability to use any Prize, shall be resolved individually, without resort to any form of class action. This Sweepstakes shall be governed by, and construed in accordance with, the internal laws of the State of South Carolina, without regard to conflict of law principles.
First, you agree to try to resolve any disputes informally by contacting info@polydeck.com. Sponsor will try to resolve the dispute informally by contacting you via email. If a dispute is not resolved within thirty (30) days of submission, you or Sponsor may bring a formal proceeding, as set forth below.
You agree to finally settle all disputes only through arbitration; provided, however, the Sponsor shall be entitled to seek injunctive or equitable relief in the state and federal courts serving Spartanburg, South Carolina (including the U.S. District for the District of South Carolina located at 201 Magnolia St., Spartanburg, South Carolina), and any other court with jurisdiction over the parties. In arbitration, there is no judge or jury, and review is limited. The parties agree that, except as set forth above, any claim, suit, action or proceeding arising out of or relating to this Sweepstakes shall be administered by the American Arbitration Association (the "AAA") before a sole arbitrator in accordance with the provisions of its Commercial Arbitration Rules, excluding any rules or procedures permitting class actions. In the event AAA is unwilling or unable to administer the arbitration and the parties cannot agree on a replacement, a court with jurisdiction shall select the arbitration organization or arbitrator. If an in-person hearing is required, then it will take place in Spartanburg, South Carolina. The federal or state law that applies to these Official Rules will also apply during the arbitration. Disputes will be arbitrated only on an individual basis and will not be consolidated with any other proceedings that involve any claims or controversy of another party, including any class actions; provided, however, if for any reason any court or arbitrator holds that this restriction is unconscionable or unenforceable, then the agreement to arbitrate does not apply and the dispute must be brought in a court of competent jurisdiction in Spartanburg, South Carolina. The Sponsor agrees to pay the administrative and arbitrator's fees in order to conduct the arbitration (but specifically excluding any travel or other costs of Participant to attend the arbitration hearing). Either party may, notwithstanding this provision, bring qualifying claims in a Spartanburg, South Carolina small claims court.
The Federal Arbitration Act shall govern the interpretation, enforcement and all proceedings at such arbitration and judgment upon such arbitration award may be entered in any court having jurisdiction. All Participants agree to abide by the terms of these Official Rules and the decisions of the Sponsor, which are final, and waive any right to claim ambiguity in these Official Rules. In the event any party challenges a term or provision of these Official Rules, the party hereby expressly waives any and all opportunities to recover any amount from the Released Parties relating to this Sweepstakes or otherwise. Each Participant agrees to service of process by mail or other method acceptable under the laws of the State of South Carolina. ANY CLAIMS, JUDGMENTS AND/OR AWARDS SHALL BE LIMITED TO ACTUAL OUT-OF-POCKET COSTS ASSOCIATED WITH PARTICIPATING IN THE SWEEPSTAKES, IF ANY. EACH PARTICIPANT HEREBY WAIVES ANY RIGHTS TO ATTORNEY'S FEES, INDIRECT, SPECIAL, PUNITIVE, INCIDENTAL OR CONSEQUENTIAL DAMAGES OF PARTICIPANT, WHETHER FORESEEABLE OR NOT AND WHETHER BASED ON NEGLIGENCE OR OTHERWISE. IN NO EVENT WILL SPONSOR AND ANY OF THE RELEASED PARTIES BE LIABLE TO ANY PERSON OR ENTITY FOR ANY DIRECT, SPECIAL INCIDENTAL, EXEMPLARY, PUNITIVE, OR CONSEQUENTIAL DAMAGES (INCLUDING LOSS OF USE, DATA, BUSINESS OR PROFITS) ARISING OUT OF OR IN CONNECTION WITH ANY PERSON OR ENTITY'S PARTICIPATION IN THE SWEEPSTAKES OR THE AWARD OR USE OR INABILITY TO USE A PRIZE, OR ASSOCIATED WITH ANY ASPECT OF A PRIZE, WHETHER SUCH LIABILITY ARISES FROM ANY CLAIM BASED UPON CONTRACT, WARRANTY, TORT (INCLUDING NEGLIGENCE), STRICT LIABILITY OR OTHERWISE, AND WHETHER OR NOT ANY RELEASED PARTIES HAVE BEEN ADVISED OF THE POSSIBILITY OF SUCH LOSS OR DAMAGE. Some jurisdictions do not allow the limitation or exclusion of liability for incidental or consequential damages, so the above limitation or exclusion may not apply to you. The Released Parties disclaim any liability from and in connection with the Sweepstakes, the Website, any Prize, or any component thereof.
You can decline this agreement to arbitrate by sending a letter to Sponsor that must be postmarked within thirty (30) days of a Sweepstakes Entry. The letter must specify your first and last names, email, mailing address, and explain that you are opting out of the Sweepstakes Rules arbitration provision. The letter should be sent to Polydeck Screen Corporation, Attn: Dream Deck, 1780 Dewberry Road, Spartanburg, South Carolina 29307. If you timely opt out of these arbitration provisions, Sponsor will not be bound by them either.

13. Privacy Policy
Information collected from Entrants is subject to and will be used in accordance with Sponsor's Privacy Policy (as amended from time to time), available at: https://polydeck.com/privacy-policy/ and incorporated into these Official Rules by reference. By entering the Sweepstakes, you agree that (i) Sponsor may contact you via email, phone call and/or text message in connection with the Sweepstakes in accordance with Sponsor's Privacy Policy, and (ii) that Sponsor may contact you for other marketing purposes, including future sweepstakes, at any time, but (iii) you may opt-out of receiving marketing and promotional emails by following the opt-out procedure set forth in each Sponsor email. Opting out of marketing and promotional communications does not affect our ability to email or communicate with you for other business purposes unrelated to marketing and promotions or the retention of your contact data for such business purposes.

14. Winners List
The Winners may be announced on Sponsor's website(s), including any social media on or after November 1, 2022.

15. Affirmation of Acceptance of and Agreement to All of the Official Rules
These Official Rules constitute the entire agreement between Sponsor and Entrant with respect to the Sweepstakes and supersede all prior or contemporaneous communications, whether electronic, oral or written, between Sponsor and Entrant with respect to the Sweepstakes.
By submitting an Entry into this Sweepstakes, You, the Entrant, have affirmatively reviewed, accepted, and agreed to all of the Official Rules.

© 2022 Polydeck Screen Corporation. All Rights Reserved. These Official Rules may not be reprinted or republished in whole or in part without the prior written consent of Sponsor.



**By submitting the sweepstakes form, you are consenting to the outlined terms and conditions.