5 Reasons to Try KWIKDECK Conversion System
If you've always wanted to try modular media with absolutely no risk, here's your chance. Gain the cost and time-saving benefits of the Polydeck rubber modular screen media by trying KWIKDECK today.
1. No need for machine modifications
KWIKDECK is the simplest way for you to try modular screening panels without having to modify your machine. The installation of a 4-foot section on your top deck takes about 45 minutes, utilizes existing bucker bars, side tension rails, and your existing deck structure.
2. Easy installation
First time trying Polydeck's modular media? Polydeck cares (that's even in our Mission Statement). We will send an expert to help you on your first installation of KWIKDECK. In this visit with a KWIKDECK expert, you'll get all your questions answered, and we'll help you successfully install and maintain your KWIKDECK conversion system.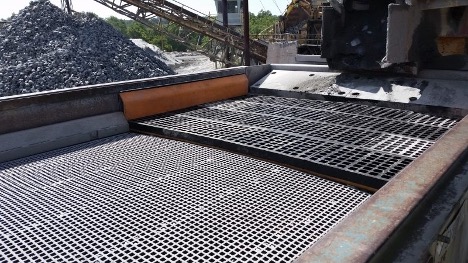 3. A variety of modular screening panels available
Polydeck is the industry leader in modular media. Not only are our panels made with the highest quality materials, we ensure our panels are the right fit for your gradation specifications and applications. Highly abrasive applications? Wearing out feed zone cloth? We've got you! KWIKDECK modular screening panels are extremely versatile, and we can customize them to meet your needs.
4. Advantages of modular media
Enjoy the advantages of modular media with KWIKDECK. You'll no longer need to shut down your plant to replace large sections on your deck, which will save you lots of time, and you'll save money by only replacing sections that are worn out. The list goes on, including reduction of noise levels and added safety benefits from using synthetic media.
5. Polydeck's expertise
Polydeck's application engineers size your panels regardless of your current conditions. We consider your moisture content, the weight of your load, gradations, machine type and many other factors. We love working with our customers to determine the best solution for your needs.