Back to Resources

Dufferin Aggregates' Butler Pit switches to Polydeck's modular polyurethane panels for a boost in throughput
Dufferin Aggregates Butler Pit switched to Polydeck's modular polyurethane panels – learn how they made the decision and what the benefits have been ever since.
Frequent plugging or pegging within a screening circuit is a costly maintenance downtime issue. Pegging is the result of near-sized material becoming wedged in the openings of the screen media – a situation which halts efficient aggregate processing and can often create a fines carry-over condition and consequent product contamination.
When an operation experiences a consistent pegging problem, it doesn't take long for management and maintenance teams to mount a full-court press on finding the right solution to improve screen throughput. That was certainly the case when industry veteran Brian Janssens took over as Foreman of the Dufferin Aggregates Butler Pit, located in Cambridge, Ontario. During the past season and into spring startup, the operation had been facing an ongoing pegging problem on the top and middle decks of its wash plant screening circuit. "Our production numbers weren't where we needed them to be and we could quickly see why," says Janssens, who recalls after his maintenance crew would dislodge material from the pegged screens, each screen would peg again the very next day. "When the panels would peg over, we would have to drop our production way down to try to get the plant to screen more efficiently. After the shift, it would take about three hours for two workers to clean out just one screen," he says. "It was a tedious task done within a very confined space," he adds.
Choosing the right screening solution
After talking with several screen media manufacturers, Janssens decided to work with Polydeck. "We chose them because they did a complete analysis of our plant setup, and they also gave us a performance guarantee that the recommended screen decks would deliver the desired specifications and throughput," says Janssens.
During the quotation stage, a complete screen performance analysis was conducted by Polydeck Ontario Territory Manager, Alex Caruana, and Mining Sales Representative and Product Support Specialist, Mike Garrison, who collected extensive data on the current screen circuit, the application, machine performance parameters, and the required specifications. "There are many possible reasons for plugging or pegging," says Caruana. He lists several causes including screen media material that is too hard or too stiff to allow product to pass through; an opening that is not designed with the correct relief angle to allow passage of the product; a high percentage of near-size material on the screen deck; or a vibrating screen with incorrect stroke and speed settings.
After careful analysis, Polydeck specified modular polyurethane panels in a VR (zig-zag) design, which is specifically engineered to reduce plugging, particularly in wet applications. The bridges in the VR design are connected only at key points, allowing them to vibrate, so near-size particles will easily pass through or otherwise dislodge. "The durometer, or hardness, of the polyurethane material is also very important. Not to be mistaken for a softer material, this specially-formulated polyurethane allows the panels to flex, while providing superior wear life over that of conventional screen media. The flexing action resists pegging and the less-rigid polyurethane material delivers the added benefit of noise reduction during operation," says Caruana.
Ease of installation
According to Janssens, the installation of the new screen media at the Butler pit was a seamless process, and the Polydeck team was onsite to guide the project. "Unlike the ease of this installation, the other media manufacturers we talked with could not easily retrofit their panels to the sub-frames of our machine. There would have been far more work involved in adapting to our units," he says.
Replacing a competitor's existing synthetic media, the Polydeck modular polyurethane panels were installed on the top and middle decks of an 8-ft x 20-ft triple-deck wash/sizing screen. "We changed out the top two decks as those were the decks giving us the pegging issues. The original panels are still in use on the bottom deck," says Janssens.
Caruana says the new top deck is comprised of slotted screen panels in the impact zone where the feed hits aggressively, followed by the panels with the VR zig-zag openings to combat the severe pegging previously occurring. Four rows of 2-inch-tall dams are integrated into the deck layout to aid with stratification in such a high bed depth application. Three rows of dams are integrated into the middle deck configuration as well. "We manufacture our panels using an injection molding process that ensures every modular panel has accurate opening sizes and shapes and is thoroughly cured throughout. Injection molding also means surface features, such as dams and skid bars, are not glued or bolted on, but are an 'integrated' part of the panel's construction," says Caruana.
Caruana says the modular panels are installed on the Polydeck PipeTop™ frame system, which easily attaches to the existing cross members of most screen machines. "A PipeTop conversion is typically pre-jigged into two sections per deck and allows a simple remove-and-replace process during installation," he says.
Above: A significant increase in production capacity while maintaining quality standards, reducing maintenance time, and improving machine uptime.
Fine-tuning for optimum screen performance
According to Caruana, fine-tuning begins during the initial specifications of the media. "After correctly matching the media to the vibrating screen parameters, we review all the potential product mixes so potential gradation inconsistencies and plant bottlenecks can be identified, and adjustments made upfront," he says. Caruana goes on to explain Polydeck combines "hands-on" plant experience with customized software tools to capture the critical processing statistics. "We run 'what-if' scenarios to optimize media specifications to the applications, while examining how changing variables within screening operations will affect overall efficiency," he says.
"Beyond supplying the media, itself, Polydeck worked with us to maximize performance by tweaking and adjusting a number of key parameters during the installation and startup process," says Janssens. "The biggest adjustment affected the motion of the screen. Polydeck recommended adjustments to the speed and stroke of the machine, and we brought in the screen supplier to re-establish those parameters," he adds. "In consultation with Polydeck, we tweaked the material feed and discharge methods to maximize processing capacities. We also experimented with the location of certain panels, particularly those outfitted with dams, while adjusting water pressure," says Janssens.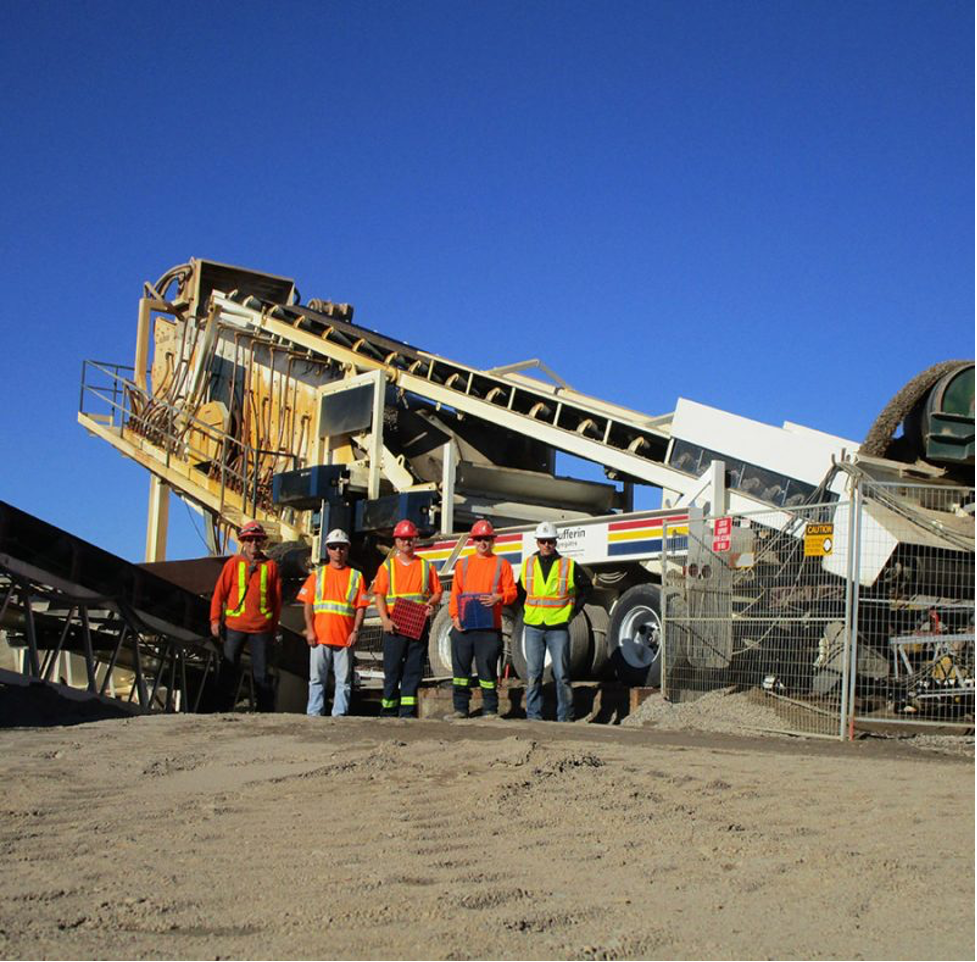 Above: Part of the Butler plant conversion team (L-R) Matt Toth, Brian Janssens, Alex Sedore, Jeremy Dingman, and Polydeck Territory Manager, Alex Caruana.
Meeting production goals
Following the startup phase, Janssens was able to evaluate the efficiency of the wash plant screening circuit. "With the new Polydeck screen media panels, we have eliminated any pegging issues. As a result, we are saving a ton of maintenance time and costs. Most importantly, we're getting a substantial increase on our production capacity at the wash plant," he says.
The site normally processes up to six products at a time, with the addition of certain specialty products. "All products are meeting specifications," says Janssens. "All our production goals for throughput, uptime, and quality have been met," he adds.
Written by Carol Wasson, veteran freelance writer for the aggregate and construction equipment industries. Published in Rock Products, Feb 2015 issue.
dassdsad