Learn about Polydeck PROTEX from our expert and Northwest Regional Manager for Aggregates, Kendall Herring. Kendall assists the aggregate customers in his region to ensure their operations are optimized for efficiency and throughput in order to meet their production goals. In this blog, Kendall details the benefits of utilizing Polydeck's custom and in-stock wear liners to preserve durability and reduce maintenance time in aggregate operations.
The best-known benefits of Polydeck modular screen media products are wear life, ease of maintenance, and reduced downtime. Why limit these benefits to screen media? Liners are one of the most used products that Polydeck manufactures. Whether you are looking to line a chute, feedbox, discharge lip, conveyor belt liners, hopper or any other wear point, PROTEX is the solution for you.
Are you still using wear metal such as AR plate or other hardened steel? Do your employees spend hours cutting and welding inside narrow chutes? If so, it's time for you to move into the next generation of wear protection: synthetic liners. Pound for pound, steel products simply cannot compete with the longevity of synthetic materials such as polyurethane, rubber, UHMW, and ceramics. Welding in enclosed areas like chutes is time consuming, awkward, and is a health concern for employees exposed to the fumes. Alternative methods of fastening such as bolt-in, whether with stud bolts or through bolts in countersunk holes, make synthetic liners quick and easy to replace and ensure the fastening will last the life of the panel by protecting the bolt from wear. For even faster attachment, Polydeck's newly released PROTEX ML (magnetic liners) offer a great option. Simply pry out the old magnetic liner, drop in the new one and fire the plant back up.
For convenient sizes, quick availability, and robust protection Polydeck stocks 1" and 2" thick PROTEX RL (rubber liners) in 12" x 12" and 12" x 24" sizes. This size range allows you to easily create a tiled pattern on your wear points that can be quickly and easily replaced by a single employee. If you forget to order replacements, these liners can be shipped on demand to your site. For those odd bends and angles in your chutes, the stock liners can be cut to fit in the field. Alternatively, Polydeck can create any custom shape and place bolt holes in any position. These custom liners will arrive ready for installation and immediate use in your plant.
Do you need sizes sufficient for your heavy-duty application? Let's go BIG! Polydeck is capable of making any size and shape rubber panel up to 4" thick and 4'x8' overall dimensions. One of the most common applications for these custom liners is to fit the feedbox or discharge lip of any screen arrangement to protect these common impact areas. Still need more protection? For the most extreme applications, Polydeck recommends installing the new PROTEX CL (ceramic liners). Depending on your need for impact or abrasion resistance, Polydeck provides ceramics to maximize your wear life and prevent costly downtime.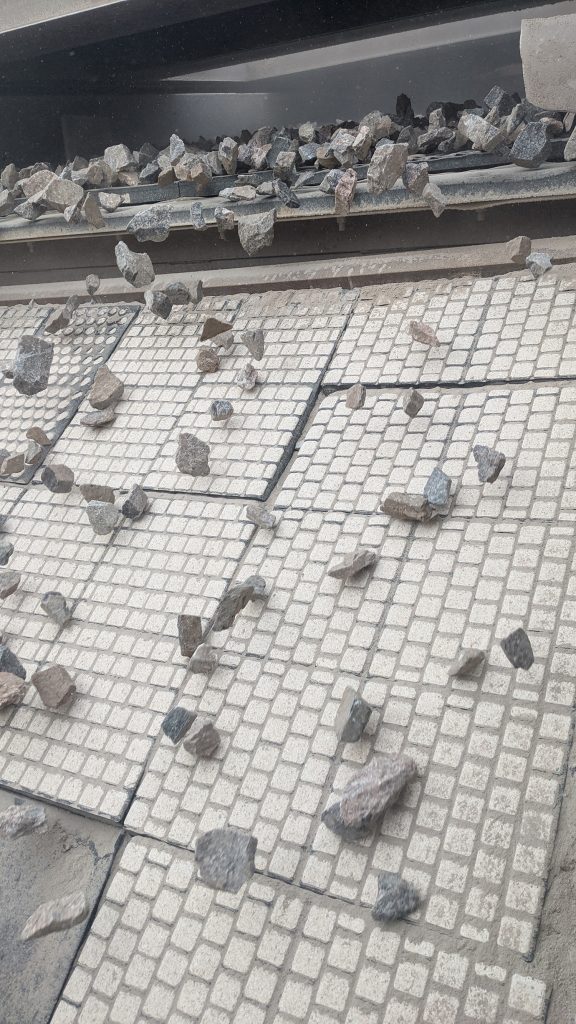 When you chose to upgrade your wear lining components to Polydeck's PROTEX options, you will receive expert advice on the best liners for your application, and products designed to last. With over 40 years of experience refining our compounds to provide the industry's premiere synthetic liners, you can rest assured Polydeck products will last. PROTEX will reduce your operation's maintenance requirements, improve your operating efficiency, and save you money. Go beyond the screen and experience the durability of PROTEX.