The Polydeck culture is centered around a holistic view of partnering with our customers to meet their needs. Our company mantra, Together Strong, illustrates a commitment that goes far beyond providing high-quality products. While we are proud of the products we offer, we find it more fulfilling to come alongside our customers and troubleshoot the issues they face by assisting with installations and minimizing their downtime by providing the most competitive lead times in the industry.
The way we can provide short lead times is through our distribution center network and supply chain management. With seven distribution centers located strategically across the United States and Latin America, we can meet demand in a matter of hours, or days, to get our customers the products they need when they need them.
How Our Distribution Centers Work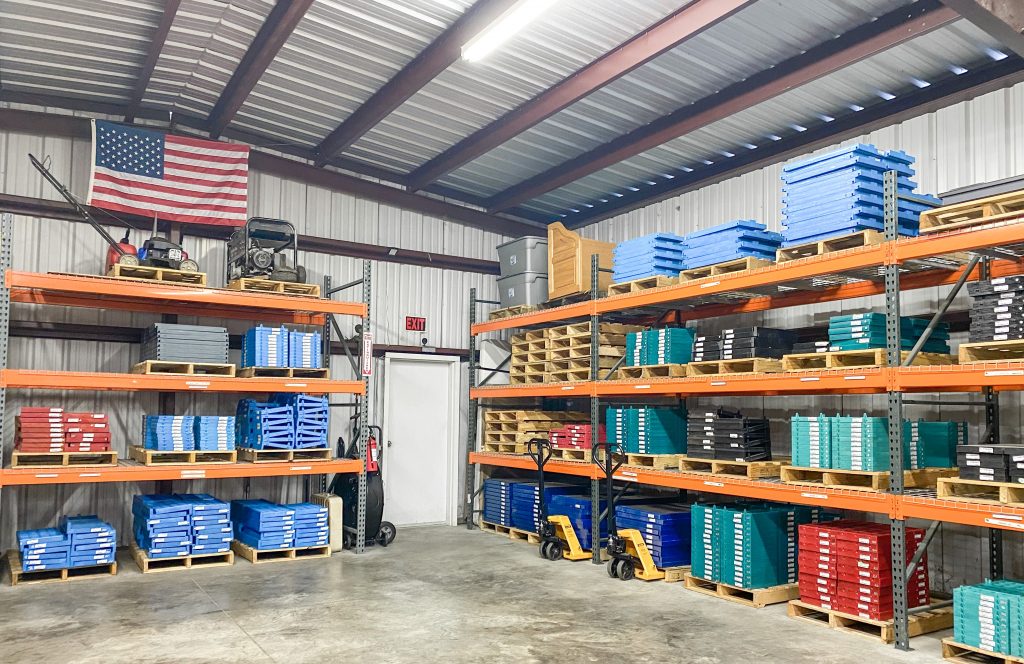 Our distribution centers work together with Polydeck manufacturing sites in Spartanburg, SC and Santiago, Chile to maintain the right combination of products our customers need. With hundreds of products in stock, including accessories, stringers, and screen media, we pride ourselves on strategic inventory planning to ensure we can cover our customers' needs as they arise.
In tandem with our manufacturing sites, distribution center managers continuously evaluate inventory levels and product mix based on demand. Keeping a pulse on customer need, managers can adjust inventory and stock items to quickly respond to emergencies or shifts in demand.
Providing Value Beyond Lead Times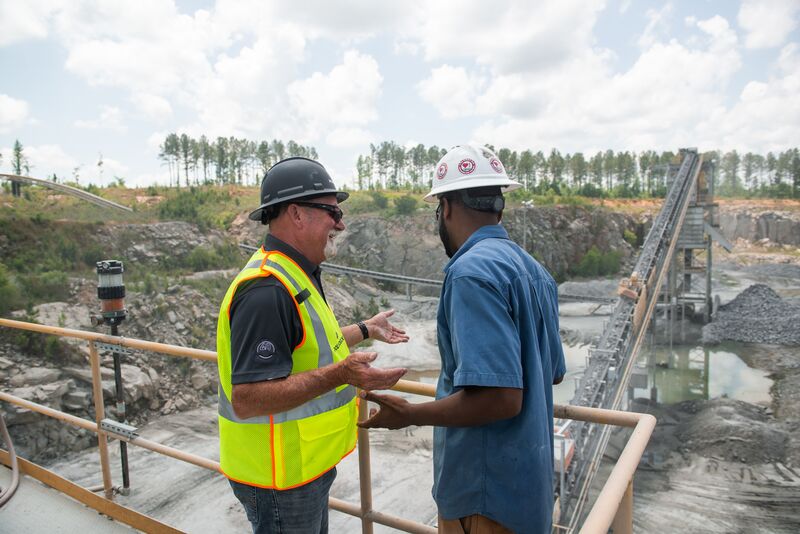 While distribution center managers work alongside customers to maintain their screen media or other Polydeck product needs, the value goes well beyond short lead times. Additionally, Polydeck has an extensive network of Application Experts located across North and South America who are trained with the knowledge and tools to help troubleshoot any part of the screening process.
Having distribution center managers and application experts regularly on-site offers Polydeck customers the additional security of knowing their screens are being consistently inspected to ensure that everything is running at maximum efficiency and delivering the best results.
As customers expand their operations and add new screen decks, consistent communication with Polydeck helps proactively anticipate product needs and the ability to plan stock levels as needed.
Our Commitment to Customers
Polydeck distribution centers allow us to provide quality products with short lead times. But the value Polydeck brings to our customers is in our commitment to partnering together to solve problems. We genuinely believe that together we are better. Together we are strong. Together Strong!
Written by Armando Cardenas, Polydeck Distribution Center Manager in Tucson, Arizona.

On June 7, 2022, Polydeck celebrated the sponsorship of its first Habitat for Humanity home being built in the local Spartanburg community with a traditional wall-raising ceremony. This event marked the first of several homes that Polydeck has lined up to build over the next few months through the Habitat for Humanity organization.
Prior to the ceremonial wall-raising, several speakers including Polydeck's CEO, Peter Freissle, Polydeck's President, Ron Kuehl and the recipient of the home who would like to be known as Ms. Martin, took to the stage to share blessings and goodwill for all that this home will represent. For the Polydeck team, this home embodies the company's commitment to social responsibility and the heart of the Freissle family which is to care for those in need. For the Martins, this home represents a long-awaited dream finally coming true- home ownership, and the hope that this home will be a blessing to generations of Martins to come. Before the crowd scattered and the Polydeck crew got to work on building the home, each attendee signed words of encouragement on the house's wood structure to remember the significance of this partnership.
"Polydeck is a company founded on Christian values that prioritizes giving back locally, nationally, and globally," states Polydeck's Human Resources Director, Linda Coltrane, "It brings us tremendous joy to partner with an organization like Habitat for Humanity, to formulate a new connection with the Martin family, and to provide an incredible opportunity for our employees to serve together in a hands-on way to impact the Spartanburg community."
With construction having begun immediately following the ceremony, the approximately 1,100 ft2 home will be ready for Ms. Martin to occupy in just a few short months. In the meantime, Polydeck will celebrate two more wall-raisings in the neighborhood so that several others may join Ms. Martin in receiving a new home.
The historic rush for gold that erupted in 1849 in the state of California, later jumping to Canada's Yukon Territory, was less about striking it rich and more about daring to take chances—trying and failing, and trying again. American entrepreneurship shifted into high gear in those days. Fast forward to the present: Discovery Channel's television series Gold Rush has hit the mother lode for six seasons, ranking as the top-rated show on the network.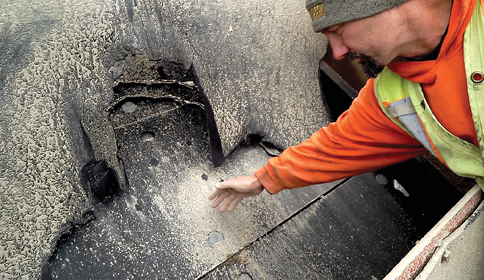 Dave Turin, a principal cast member of the TV series 'Gold Rush,' checks a feed box at the Klondike gold operation. (Photo: Gold Rush)
Dave Turin, a key character on the show, described the series as the saga of down-on-their-luck construction workers facing all odds in the hopes of making good in the gold business. "It speaks to 'the American spirit,' that of taking a chance—and getting off the couch, putting your boots on, and getting to work no matter what the risk," he said. Turin is teamed up with cast member Todd Hoffman, the founder and leader of 316 Mining, which operates on a claim in the Klondike region of the Yukon in northwestern Canada.
"These haven't been easy chances, as we weren't very successful in the first several seasons— but we've stayed at it and we've evolved as does any start-up business," said Turin. As to the current season, he said, "We're catching a lot of gold."
The successful evolution of the Gold Rush mining teams is due in part to the expertise and equipment provided by a number of the nation's top mining equipment manufacturers. Among them is Polydeck. The company first got involved with Gold Rush in 2012 when providing the screen media, a frame system, and accessories for the top deck of a 5 x 16-ft double-deck vibrating screen.
During the current Gold Rush season, Polydeck conducted a complete screen performance evaluation for the 316 Mining team. These "value-added" evaluations, according to the company, often lead to greater screening efficiency by determining needed adjustments to screen speed, stroke and acceleration. The latter is combined with an analysis of the support structure, bearings, and other key components to help prevent excessive wear and potential equipment failures.
Polydeck said it takes a unique bigger-picture approach to maximizing screen performance for its customers. At the 316 Mining site, the screen performance evaluation and subsequent fine tuning ultimately led to an estimated 25% increase in overall screening efficiency for the Hoffman/Turin crew.
"Working with Polydeck is a great partnership. They continue to take chances on us—and that's what our show is all about," said Turin, who added that he first requested Polydeck screen media several seasons ago. "Back then, we put their media on the top deck of the wash plant that we called 'Big Red.' This season, we've got it on the plant we call 'Monster Red,' and we've doubled the production capacities that we had two years ago."
Turin became familiar with Polydeck media when he installed it in his family-owned quarry and paving business, which is based in Oregon. "It's all about the longevity of the Polydeck media. Unlike traditional wire cloth, we can put Polydeck in, and forget about it. The money we save in labor and wire cloth changeouts far outweighs the initial cost of the media. That's why we wanted it for our gold mining operation."
Targeted Solutions
In 2014, the Hoffman/Turin crew upgraded to a larger triple-deck, 6 x 20-ft screen, and once again requested Polydeck media. Turin shared their specific requirements with the Polydeck engineers, who recommend the optimum configurations of opening types and sizes for the application. "They understand our machine; what we are sluicing; and provided us the just the right openings for our type of material," said Turin.
Polydeck provided both Polydex modular polyurethane panels and Rubberdex modular rubber panels—as well as frame systems and side wear plates. Turin said the modularity of the deck means they can change out a single panel at a time if need be; rather than replace the entire deck. The biggest thing, he said, is being able to change out panels as necessary on just the feed end where you get all the impact and wear.
Polydeck's new Armadex bolt-down rubber chute panels are installed on the feed end of the top deck. Armadex sections are steel-backed rubber panels that combine a proprietary blend of natural gum rubber with a high-strength/low-alloy steel plate backing, making it ideal for tough, abrasive applications. According to Polydeck engineers, Armadex panels are created using a Binary Injection Molding (BIM) technology, which is a proprietary Polydeck manufacturing method that produces 10 times the pressure normally used to produce compression-molded rubber. Poydeck said combining this process with premium natural gum rubber and HS/LA steel plate backing produces unprecedented strength, which results in longer wear life at lower costs per ton.
Hoffman said, "We've got the best wash plant in the Klondike, hands down." His crew reported that over two seasons, they have put more than 800,000 yd3 of abrasive, quartz-filled material over the rubber and polyurethane decks, at an average of 250 yd3/h—running 24/7 from June through September each season. "The decks still look great and we've maximized our uptime and saved big bucks on maintenance and labor. For example, if we had used standard AR Steel plate on our feed end (vs. the Armadex), we would have been changing that out once a week," said Turin.
Turin and Todd Hoffman (right), another cast member, say they are convinced the initial cost of installing polyurethane and rubber media panels and parts is significantly offset by reduced labor requirements and longer service life provided by the Polydeck products.
Big-picture Performance
Mike Garrison, a Polydeck product support specialist, has conducted hundreds of screen performance evaluations in the mining industry. He traveled twice to the Yukon to visit the 316 Mining site to complete an evaluation and offer solutions for greater efficiency. "We offer the technical assistance that goes beyond looking at screen media and examines the entire screening circuit—to make the circuit more reliable, to increase their recovery; and to minimize maintenance," said Garrison.
Evaluations record a screen's orbits; motor speed; any harmful deflections along the Z axis; material travel rates; and any movement of the support structure. It also examines a screen's critical frequencies to help determine the screen's optimal speed and stroke. Importantly, the final report includes any recommended adjustments to a screen's operating parameters and/or media to maximize its operating potential in its particular application.
Within Garrison's detailed report, an example of one of the major issues uncovered during the evaluation is that the combination of the screen's displacement and acceleration was excessive for the bottom-deck apertures (openings) and was likely contributing to inefficient screening on the bottom deck. The level of acceleration was also causing body (Z) axis deflections along the bottom deck. Consequently, adjustments were made resulting in an 11% reduction in the displacement (stroke) of the vibrating screen. "This adjust ment boosted overall recovery and had an immediate effect upon overall efficiency," said Garrison.
After fine-tuning the screen's operating parameters, Turin reported that they saw a noticeable improvement in the bed depth and carryover on the bottom deck. "We have increased production to 280 yards per hour with very little carry over. Depending upon the quality of pay dirt that we run, our recovery rate is between 3/4- and 1-1/2-ounces for every hundred yards of material over the screen, which is a significant increase over last season," said Turin. While initially skeptical of all the troubleshooting, Turin said the results achieved after completing the recommended adjustments has him convinced of the value of conducting periodic screen performance evaluations.
Science and Synergy
Optimum screening performance is less about trial and error, and more about understanding the science of screening. The Hoffman/Turin crew acknowledged that its partnership with Polydeck has allowed them to "dial in" their requirements; and continually identify areas that will deliver the greatest return. Ultimately, it's all about less risk and greater recovery.
Written by Carol Wasson, veteran freelance writer for the aggregate and construction equipment industries.
Polydeck's safety culture is based upon our core value of caring for people. We believe that striving for safety excellence is the single best way we honor and care for our team members so that they return unharmed to their loved ones each day. By ensuring that we act safely and by going out of our way to provide a safe and healthy work environment, we hope to accomplish our goal of being a world class safety organization grounded in the idea that acting safely is how we care.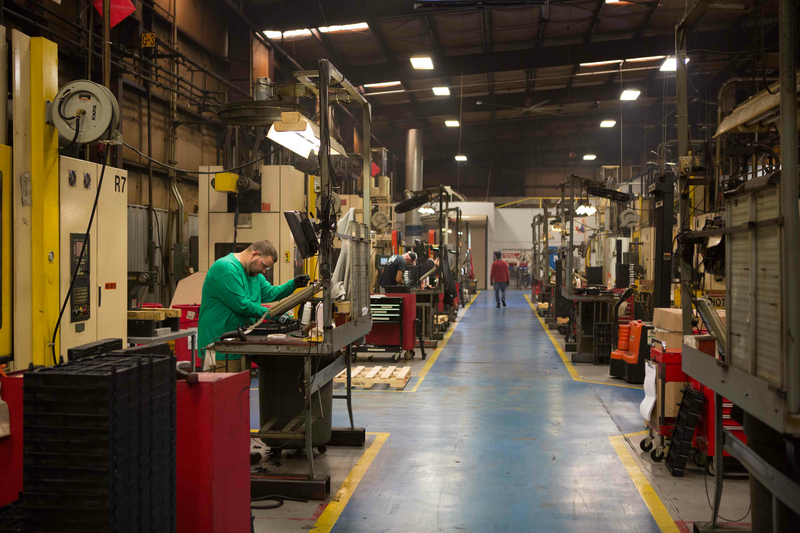 Every team leader and member at Polydeck uses safety excellence as a compass rather than a lofty target. This can be a daunting objective because ensuring the entire workforce operates with a "safety always" philosophy is more of a mindset than a tag line. And, as we all know, changing and evolving a mindset is not easy. Mindset alone cannot achieve safety excellence, but it certainly impacts behaviors. Behaviors that produce positive and safe habits directly correlate to lowered workplace incidents. Therefore, we are confident that an engaged team of people who live with a "safety always" mindset is the start to a safe organization.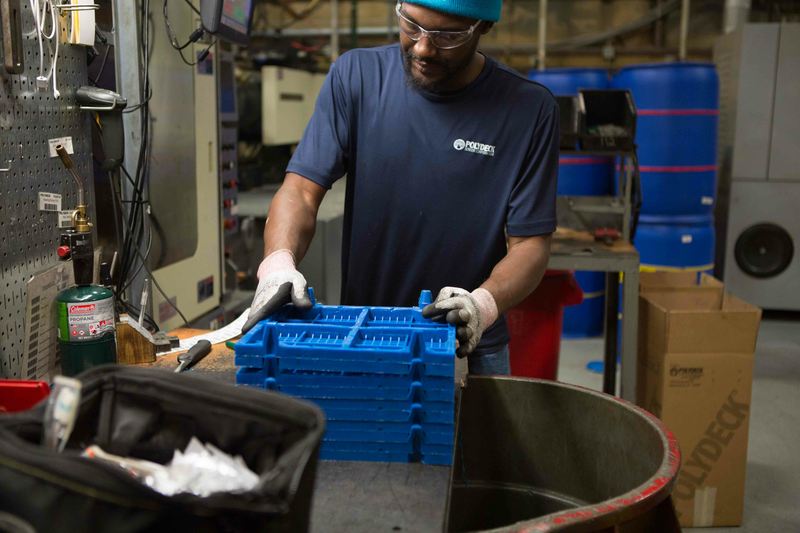 When team members truly buy-in and care deeply for those around them, significant changes occur. Recall great teams that have won championships, or groups of people who have affected policy changes, or creatives and inventors who have impacted technological fields with life-enhancing and life-saving solutions—these circumstances required dedicated people with a committed passion for the work being done. They did it for themselves and for others, and they were met with amazing results. This is how we feel about safety. Sure, we can attempt to lean on policies, OSHA regulations, or even automated equipment to make our site safer, but those elements will only get us so far. That is why in addition to our safety slogans, vision statements and policies, we have simplified safety excellence to the idea that we need to work together to care for each other.
At Polydeck, we have seen team members lead by example and go above and beyond safety expectations because the ownership that they recognize without ambiguous "rules," empowers and enables them to act whenever safety is compromised. Team members are motivated to catch safety hazards and recommend improvements to help one another create a safer workplace environment. This sense of purpose is the heartbeat of our safety culture.
With each individual working together, we strongly believe that we will accomplish world-class safety. Together Safe. Together Strong.
Written by Todd Nalepka, Director of Manufacturing at Polydeck.
Ryan Johnson, director of R&D, and Trey Rollins, director of marketing, speak about the solutions Polydeck is creating to monitor screen media panel health.
"Our research has led us to focus on three primary concerns operators have in relation to the reliability and availability of their screen media," Johnson explains.
"The first concern revolves around the reliability of screen panel fastenings. Operators need to be confident all screen media panels are securely fastened during installation and remain fastened during operation. Displaced screen panels can block material flow, send misplaced material through the process, and potentially damage equipment. Our technology ensures an operator can detect fastening issues before a panel becomes displaced and alerts an operator so that action can be taken quickly to prevent contaminated product piles.
"The second concern centers around screen availability in relationship to media performance and wear life. The media health technology designed into our panels will help operators more precisely understand the wear life of a screen panel and be able to plan maintenance activities based on the predicted life of panels in service. The ability to measure panel wear life in real time creates an opportunity to optimize screen media selection by location on the deck, and develop media maintenance plans that balance cost and performance. The ability to detect specific panel location gives an operator insight into specific wear patterns and opportunities to drive efficiencies throughout their process.
"Third, our concerns center around screen media being installed in the proper location on a screen deck. Due to screen decks often having two or three different aperture-sized panels on a deck, operators need to be confident that all media panels are placed in their proper location. The correct placement of the media ensures an operator is set up to achieve their target separations and maximize efficiencies." Today, media panel wear is managed through manual tracking processes and visual inspections. Product gradations taken after material is screened also provide an indirect measure of panel condition but serve as a lagging indicator of the wear a panel has experienced. In reality, screen decks are often difficult to access, and visibility of the panels is minimal, particularly on lower decks. Moreover, a thorough inspection of a screen wear requires both a machine shutdown and a dedicated person to perform inspections and take measurements, making visual inspections expensive and time consuming. Typically, the best information an operator has at their disposal is a historical record of service intervals and changes made to a screen. The advent of "smart panels" i.e., those embedded with sensors to help operators monitor, manage, and measure the performance and wear life of their screen media in real time via the Industrial Internet of Things (IIOT), could prove a useful alternative.
There are two different types of critical information that smart panels could provide.
First, information on tracking long-term usage and performance patterns of the screen media. Data used for this could include the age of the panel, the wear life and the physical location. The goal is to use this data to build predictions of wear life, and in turn, predict when maintenance might need to be performed or replacement parts ordered. This information can be used to optimize maintenance planning, avoid stock-outs, and ensure the most efficient use of screen media.
Second, detection of critical events that may require an urgent response. For instance, the dislocation of a screen panel or an impact that breaks or punctures the screen media. Today, if a panel comes loose or fails catastrophically, operators often don't know until it's too late. Using embedded sensors to connect operators with the screen panels could help users avoid costly downtime and repairs and reduce the chance for misplaced material within a circuit.
"We believe that integrating digital technology into media panels will be a key part of screen management practices in the future and will help further increase efficiencies throughout the material processing process," states Rollins.
Pinto Valley Mine, part of the Capstone Mining Corporation, is currently the only open pit copper mine operating in the historic Globe-Miami mining district of Arizona. As an older plant designed to run a maximum of 48,000-tons per day, the facility has recently focused its efforts on optimization initiatives to meet market demand.
30-year mining industry veteran, Bob Dickey, who has overseen the Pinto Valley Mine for the past three years, is the driving force behind optimizing screening circuits and using high-quality screen media to increase efficiency. When Dickey took over the plant, his main goal was to push as much production through the plant as possible. To do this, he knew he would need to bring in suppliers and partners to boost efficiency at the mine to fuel high-impact, quick-payback results.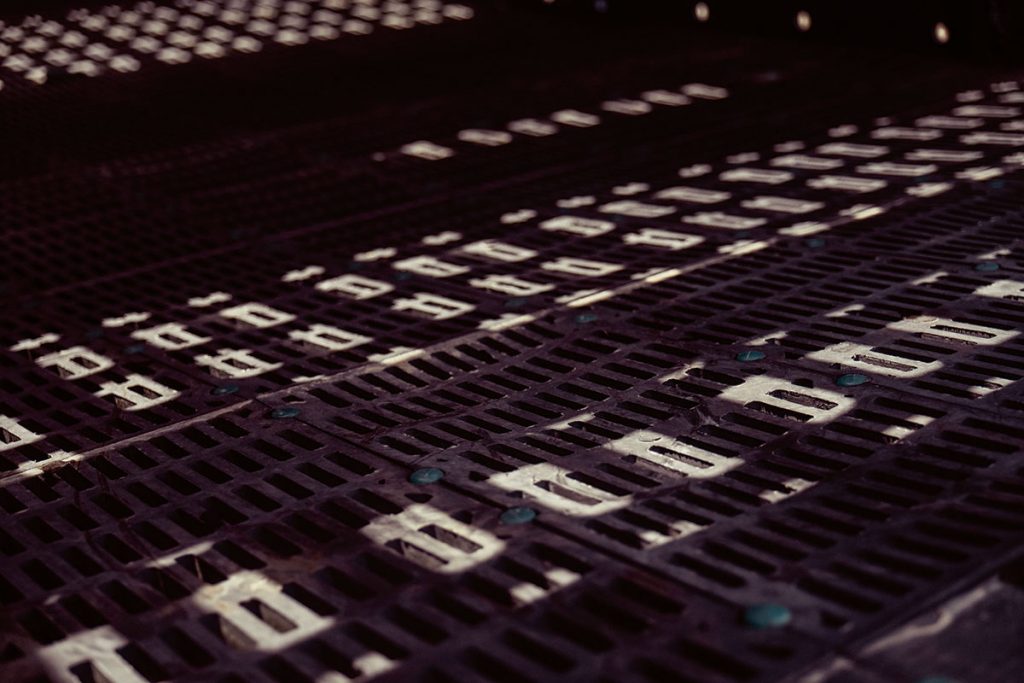 For Pinto Valley, the biggest need was to maximize open area on the screen deck to get the desired throughput. "If a screen deck panel lasts six months, but we're wearing it to a point that oversize is going to the ball mills, then there's no value in that. Instead, we focus on maximizing the efficiency of those screen deck panels until we reach the targeted wear point that triggers the deck changeout," stated Dickey.
As he began prioritizing the elimination of bottlenecks within the screening circuits as a quick way to optimize performance, Dickey turned to Polydeck for assistance.
Polydeck's Mining expert, Tom Wayment, visited Pinto Valley to learn more about the challenges the site was facing with its existing process. Through extensive on-site testing, hands-on follow up, and service, the Polydeck team worked closely with Pinto Valley to "dial in" the screen circuits to meet specific requirements.
"Since Pinto Valley runs six identical screens side by side, Polydeck media could be tested right next to a competitive media brand," said Wayment. The video testing showed a clear indication that the Polydeck media resulted in a clean bottom-deck oversize being fed to the tertiary crushers.
The Polydeck team worked to install a custom layout of Polydeck RUBBERDEX® modular screen media on the secondary and tertiary double-deck screening circuits to increase open area and wear life for greater efficiency. RUBBERDEX XLR® media is installed on the first three rows of the feed end on the top deck. The specially formulated XLR media compound is engineered for up to 15-percent increased wear life in abrasive applications. The remainder of the top deck features RUBBERDEX® panel types that target high-wear or heavy-feed applications. The bottom deck also utilizes abrasion resistant XLR media panels on the feed end, with the remainder of the deck featuring RUBBERDEX® panel types designed to minimize blinding and allow higher material throughput.
To maximize open area, decks are mounted on Polydeck PIPETOP™ media systems, with narrow ½-inch-wide rails that allow for more openings on the panels, and consequently, more material throughput.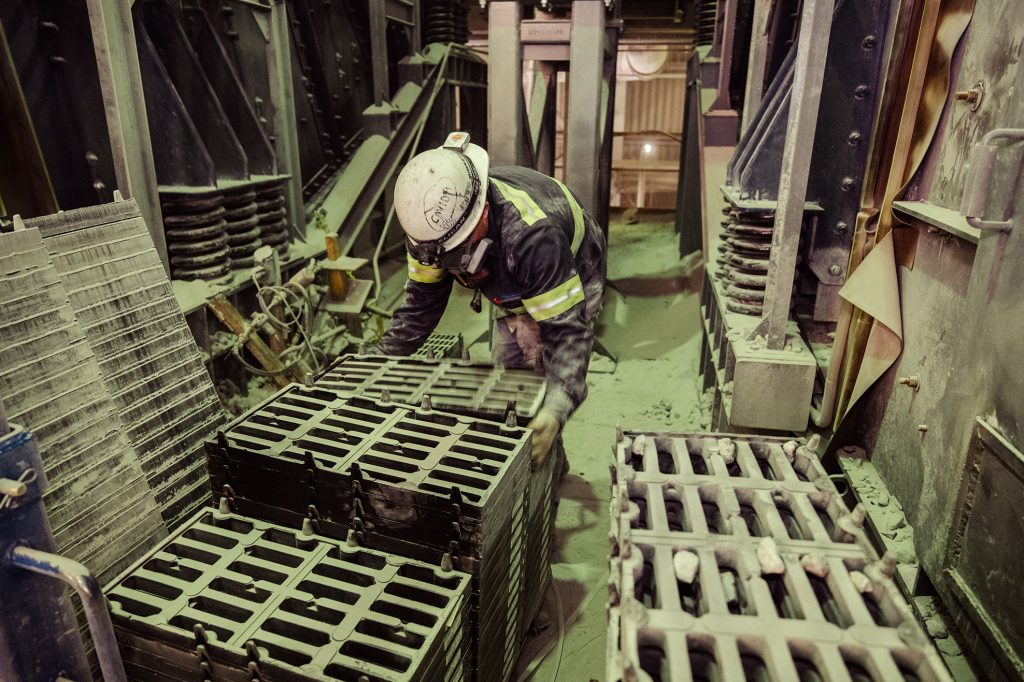 With the help of Polydeck experts and the installation of Polydeck screen media, Pinto Valley increased efficiency to 60,000-tons per day by increasing open area, providing greater screening availability, and maintaining a clean feed being discharged to the crushers. Bob Dickey defined Polydeck as "a true partner, [who helps] to find the ultimate solution – even if it's not one provided by them". By consistent testing, evaluation, and tweaking, together with Polydeck, Pinto Valley found a way to combat dated technologies and maximize its operations.
Polydeck's President, Ron Kuehl and Director of Supply Chain, Bryan Travis, reflect on supply chain in 2021 and what's in store for 2022.
Q: How would you characterize the supply chain as you look into 2022?
Travis: The global supply chain remains strained on multiple fronts and will face ongoing pressure throughout much of 2022. As material availability improves and the logjam in transportation becomes less congested, there will be sections of the supply chain that ease. These pockets of easing, however, will likely be offset by other complications as the flow of raw materials work to normalize. Thankfully, Polydeck's strong relationships with suppliers have allowed us to foresee the current supply chain shortcomings and adjust our inventory positions in advance to prevent any such disruptions. 
Q: What "shortages" if any are you (or the greater screening industry) seeing at the moment when it comes to screening equipment?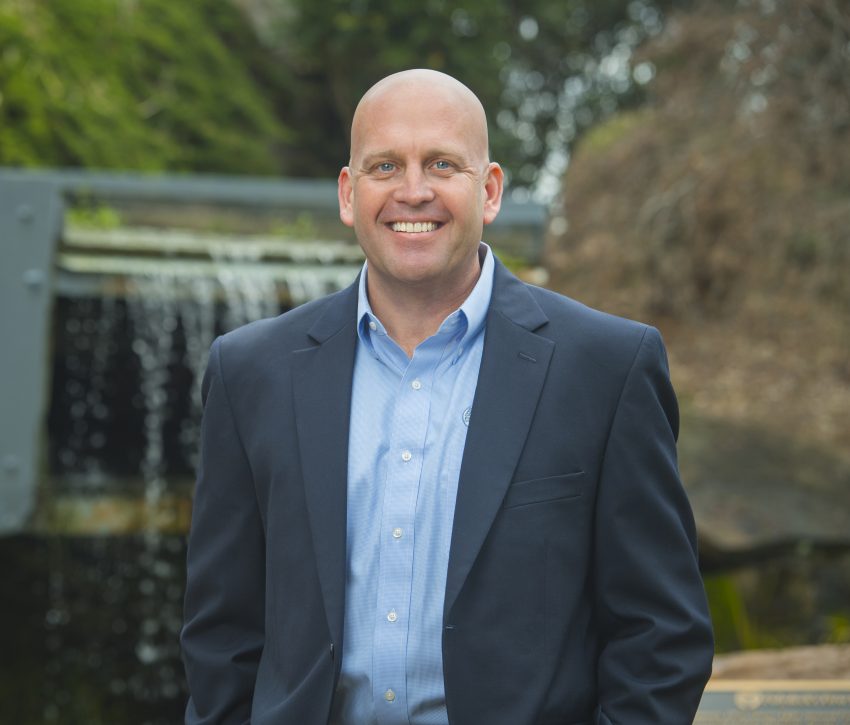 Kuehl: Steel, Polyurethane, and Rubber compounds are key materials that remain strained in the current environment. The resin and chemical industries have endured numerous impacts due to government restrictions, COVID-19 induced labor shortages, power interruptions at Gulf producer sites, and feedstock material shortages. Steel productivity is improving, with additional capacity coming online around the globe.  A notable aspect of this current cycle has been the material disruptions and pricing inflation which has impacted multiple commodities and rippled across global markets.  As a result, we have had to pass along some inflationary increases to our customers, but through our strong partnerships with suppliers and intentional efforts to maintain inventory levels we have been able to shield our customers from product disruptions.   
Q: How are you advising customers to order for 2022?
Kuehl: With material and transportation impacts remaining front and center, customer collaboration and supply chain partnerships are a top priority. Today, in our customer conversations, we regularly emphasize the importance of communicating forecasts, growth plans, and development needs for 2022. Our operations team is preparing for growth and ensuring our ability to offer great lead times within the existing constraints. We look forward to continued customer conversations and value collaborative planning and communication so that we can do our best to hold lead times and offer our customers improved service during these difficult times. Our ability to meet our customers' needs is only possible through the weekly input we receive from our suppliers to adjust raw materials levels, by leveraging our global manufacturing sites and suppliers and increasing our finished goods stock levels.
Q: Anything else you'd like to add?
Kuehl: This disruptive cycle has driven the need for an increased focus on supply chain efficiency and resiliency. The risk mitigation process and its effective deployment has become a critical part of supply chain management at Polydeck. As a customer to our raw material partners and a supplier to the mining industry, Polydeck has embraced a holistic approach to risk mitigation as a vital part of our business process allowing us to remain as dependable as ever.
*Article will also be available in Pit& Quarry January issue
In 2021, Polydeck set out to wow customers, improve profitable growth, create a winning work culture, and improve on our past successes. Together, we worked hard to achieve our goals and have succeeded.
            Despite labor challenges, supply chain constraints, rising raw material costs, and the continued threat of COVID-19, we were still able to maintain the best lead times in the industry combined with a record year in product quality. Our record bookings and shipments coupled with our "Best Place to Work" certification proved to us just how strong our culture and teams are. The launch of our new product category- PROTEX- and Customer Satisfaction score of 93.34% (World Class status) is a primary indicator of our position as leaders in the industry.
As we continue to focus on continuous improvement especially in the areas of environmental, social responsibility, research and development, and the launch of new products, we still maintain that our employees—the Polydeck family—is our greatest strength.
One of the most rewarding projects that we worked on this year was leadership. Identified leaders at Polydeck underwent what we have called "The Leadership Commitment Training," which is a 7-week cohort training series taught by Polydeck's Senior Leadership Team.
I was honored to kick off the series and teach on one of Polydeck's core business values--Leading people in a way that honors God. Some key highlights from my research included:
Leadership is:
not power; it is a responsibility
benefits all when done right
daily effort; it is intentional
A word on each-
Leadership is not power, it is a responsibility
When we look at the key leaders in our lives, we realize that it isn't their ability to make decisions that we value most about them, but the ability to make the BEST decisions. BEST decisions are made when each team member can contribute their thoughts and ideas toward reaching the common goal. A great leader brings out the best in their team, making sure all voices are heard, and decisions are made together for the betterment of all people--leadership is for people, not over people.
Leadership benefits all when done right
Good leadership inspires, challenges, anticipates problems, rewards, and uses mistakes as teaching tools--even people you disagree with, feel valued and led when leadership is done right.
Leadership is a daily effort; it is intentional
It is important to remember that leadership can be learned. In my experience, it is a daily effort, not just a class you attend or a certificate that you attain, or even a document you sign. It is also important to recognize that leadership is a process. Processes take time and growth cannot be done in isolation.
As we look forward to another successful year together, our hope is that we continually wow you, our customers, not only with our level of service but our commitment to leading well. We hope to serve you and continually conduct our business in a way that honors God. Thank you for partnering with us and have a wonderful rest of the year.
Written by Ronald D. Kuehl II, President of Polydeck
Polydeck presented a look into the future of screening at MINExpo. Below are a few highlights pulled from The Future of Screening presentation.
---
Q. What's next for screen media?
A. The biggest opportunity we see in the industry is through the digital monitoring of screen media health. Screen media has always been a key part of process reliability and efficiency through proactive management practices. As operators seek to deliver more production with fewer resources, our customers are challenged to maintain these proactive screen media practices. The trend towards digital monitoring of production processes across many industries has accelerated as organizations continue seeking increased productivity. The rise of the technologies and infrastructure associated with the Internet of Things (IoT) creates an opportunity to provide operators with timely, relevant information regarding the health condition of their screen media. We are focused on implementing sensors within screen media panels that will monitor a variety of health-related factors.
Q. Why smart panels?
A. Smart screen media panels will provide critical data for assessing screen panel status and performance. These data provide actionable insights for optimizing plant operations. We see these data focused on delivering two different types of critical information. The first type of information is based on tracking long-term usage and performance patterns of the screen media. Data used for this will include the age of the panel, the wear level, and the physical location. The goal is to use this data to build predictions of wear life, and in turn, recognize when maintenance might need to be performed or replacement parts need to be ordered. This information can be used to optimize maintenance planning, avoid stock-outs, and ensure the most efficient use of screen media.
The second type of information we are seeking to deliver relates to the detection of critical events that may require an urgent response. Events of this type might include the dislocation of a screen panel or an impact that breaks or punctures the screen media. Today, if a panel comes loose or fails catastrophically in some way, you often don't know until it's too late. By using these embedded sensors and connecting operators with the screen panels through digital technology, we will help users avoid costly downtime and repairs and reduce the chance for misplaced material within a circuit.
Q. So where will you start?
A. We know that smart panels aren't going to happen overnight. This is a development journey that requires customized digital sensors connected to new networks and advanced software tools. We have a plan that will build out these solutions in phases. Each phase of development is driven by the critical needs of our customers.
Our first step in this process is creating and embed unique identification numbers in our screen panels. This is a building block for us and what we will spend time in 2022 perfecting this implementation. Creating embedded unique identification numbers will allow us to have individual traceability for every single panel. We are working to actively couple this traceability with wear level monitoring. Over time, we will be able to track the product from the day it is manufactured to whichever deck or machine it ends up on, determining how long it was in service and its wear rate. This will give us a more complete understanding of the overall cost of screening in an operation.
Q. Is there anything more you'd like to add?
A. At the end of the day, we want to create something that is going to reduce the complexity of screen media management for our customers and further optimize their screening operations. Based on the testing we have done to date and the input we've received, we believe this digital transformation will deliver on this objective. Our team is serious about this endeavor and are actively working to create, test, and implement the foundational technologies that will deliver on the promise of digital monitoring of screen media health.