Learn about Polydeck PROTEX from our expert and Northwest Regional Manager for Aggregates, Kendall Herring. Kendall assists the aggregate customers in his region to ensure their operations are optimized for efficiency and throughput in order to meet their production goals. In this blog, Kendall details the benefits of utilizing Polydeck's custom and in-stock wear liners to preserve durability and reduce maintenance time in aggregate operations.
The best-known benefits of Polydeck modular screen media products are wear life, ease of maintenance, and reduced downtime. Why limit these benefits to screen media? Liners are one of the most used products that Polydeck manufactures. Whether you are looking to line a chute, feedbox, discharge lip, conveyor belt liners, hopper or any other wear point, PROTEX is the solution for you.
Are you still using wear metal such as AR plate or other hardened steel? Do your employees spend hours cutting and welding inside narrow chutes? If so, it's time for you to move into the next generation of wear protection: synthetic liners. Pound for pound, steel products simply cannot compete with the longevity of synthetic materials such as polyurethane, rubber, UHMW, and ceramics. Welding in enclosed areas like chutes is time consuming, awkward, and is a health concern for employees exposed to the fumes. Alternative methods of fastening such as bolt-in, whether with stud bolts or through bolts in countersunk holes, make synthetic liners quick and easy to replace and ensure the fastening will last the life of the panel by protecting the bolt from wear. For even faster attachment, Polydeck's newly released PROTEX ML (magnetic liners) offer a great option. Simply pry out the old magnetic liner, drop in the new one and fire the plant back up.
For convenient sizes, quick availability, and robust protection Polydeck stocks 1" and 2" thick PROTEX RL (rubber liners) in 12" x 12" and 12" x 24" sizes. This size range allows you to easily create a tiled pattern on your wear points that can be quickly and easily replaced by a single employee. If you forget to order replacements, these liners can be shipped on demand to your site. For those odd bends and angles in your chutes, the stock liners can be cut to fit in the field. Alternatively, Polydeck can create any custom shape and place bolt holes in any position. These custom liners will arrive ready for installation and immediate use in your plant.
Do you need sizes sufficient for your heavy-duty application? Let's go BIG! Polydeck is capable of making any size and shape rubber panel up to 4" thick and 4'x8' overall dimensions. One of the most common applications for these custom liners is to fit the feedbox or discharge lip of any screen arrangement to protect these common impact areas. Still need more protection? For the most extreme applications, Polydeck recommends installing the new PROTEX CL (ceramic liners). Depending on your need for impact or abrasion resistance, Polydeck provides ceramics to maximize your wear life and prevent costly downtime.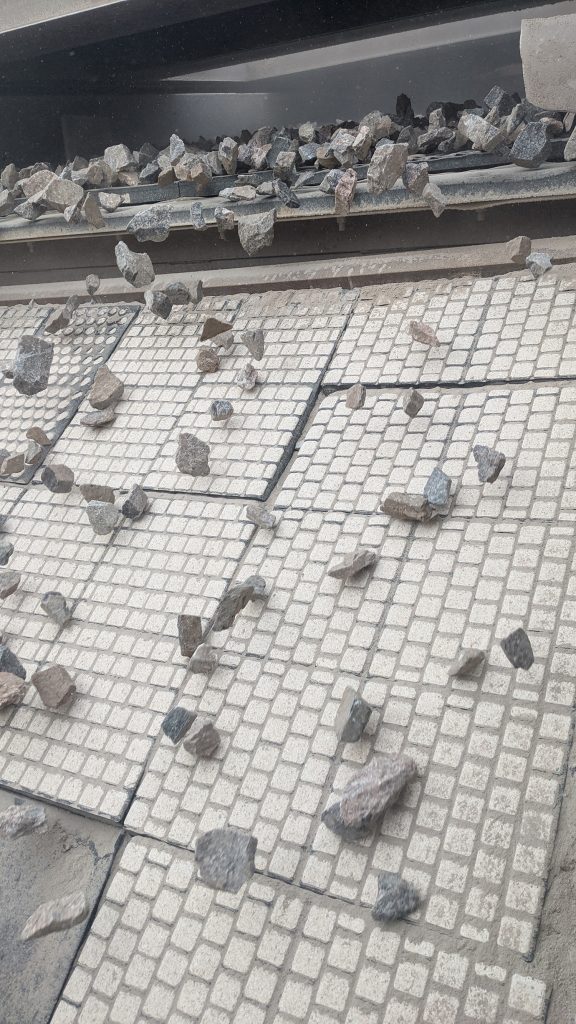 When you chose to upgrade your wear lining components to Polydeck's PROTEX options, you will receive expert advice on the best liners for your application, and products designed to last. With over 40 years of experience refining our compounds to provide the industry's premiere synthetic liners, you can rest assured Polydeck products will last. PROTEX will reduce your operation's maintenance requirements, improve your operating efficiency, and save you money. Go beyond the screen and experience the durability of PROTEX.
Our new line of ceramic liners and panels is the latest example of how Polydeck brings groundbreaking solutions to the surface.
When you partner with Polydeck, you gain access to industry-leading products and services, backed up by unmatched support and a half-century of expertise. Our new line of ceramic liners is the latest example of how Polydeck brings groundbreaking solutions to the surface.
We didn't make our name by simply conforming to industry standards; we made it by creating brand-new ones. INNOVATION is what Polydeck is known for, and it shows in the level of attention we give our ceramic liners and panels.
Ceramics may have been around for a while, but we combined our knowledge of materials and panel construction to create new, more valuable ceramic solutions that solve your costly problems. Polydeck's ceramic liners are a versatile, bolt-in solution engineered for maximum performance in aggressive wear environments.
Our modular, lightweight ceramic liners are specially-designed for higher abrasion resistance and longer wear-life, as well as reduced noise levels and fewer change-outs—all of which can dramatically lower your maintenance costs and improve safety levels.
We synthesized our proprietary Armadex rubber compounds to work with ceramics, in order to provide the flexibility and high-wear tolerances that address any need. Our ceramic liners also feature unique panel designs that help eliminate blinding, meaning you put more saleable product on the ground.
Our experts can even custom-mold Armadex ceramic liners with different durometers to match your specific application, working with you to select the right combination of materials and apply the perfect solution.
We offer outstanding lead-times and incredible technical support for our ceramic liners and panels. Whether you need to cushion a loading issue, decrease wear at a transfer point, or eliminate blinding and high wear in your chutes, our highly-trained and experienced field support team can improve your current situation with a better ceramic solution.
In addition to our unmatched external support, Polydeck's internal engineers are available by phone to discuss your needs and help you coordinate with our outside team. Our Applications Engineers review every order we receive and discuss the details with our field representatives to ensure that you receive the best service and solutions possible.
Our support services extend to the supply chain, as well. Polydeck can keep you fully-stocked by putting the ceramic liners or panels you need into regular inventory at one of our regional distribution centers, strategically located across the country. If you're ever caught in rush and need help immediately, however, there's no one in the industry who can respond as quickly as Polydeck's manufacturing team.
When you place your order, we commit to the delivery schedule you require. For most suppliers, standard lead-time is typically 3–4 weeks to push out a rush order. Polydeck has accomplished rush orders overnight, ready for next day shipment. Even if you inadvertently run out of onsite stock or someone forgets to place an order, Polydeck's manufacturing ability is there to back you up.
Finally, as with all our products, our ceramic liners and panels are backed by Polydeck's industry-leading Performance Guarantee: If you're not satisfied with the results, we will do everything possible to make it right, including replacing any unsatisfactory panels on a pro-rated basis.
It's simple—We work hard to support all your needs, because supplying value through innovation and total service is what you expect from Polydeck.
Written by Frank Harris, Strategic Sales and New Product Development for Polydeck.
Read about why Polydeck uses injection molding to manufacture our screen media.
Screen media plays a crucial role in efficiently segregating or separating minerals. Without a high-performance, durable screen material, frequent screen changes and unplanned downtime are inevitable. High-quality screen media maximizes run time, operating efficiency and profits while minimizing downtime and maintenance costs.
The Beginnings of Injection Molding in Screen Media Manufacturing
Mining operations sacrifice thousands of dollars in lost revenues due to screen media maintenance issues and inefficient screening. One way to ensure the quality of the screen media is to evaluate the process by which it is made. Although used in manufacturing settings for years, it wasn't until the late 1960's that injection molding was first incorporated in the production of screen media. That's when Manfred Freissle, the Father of Polydeck, engineered a modular synthetic screen media concept and chose injection molding as his manufacturing process of choice.
Advantages of Injection Molding
Modular screen media needs to be consistent in its construction throughout the panel in order to withstand the harsh forces generated in mining operations. At Polydeck, injection molding was chosen as the highest quality option. Other processes like casting produce inconsistent results and rely heavily on an operator monitoring the process. There are no means to effectively inspect the material for proper curing that is non-destructive once the casting process begins. For example, on rubber screen panels, under-vulcanization in the center or over-vulcanization of the outer skin reduces the performance of compression molded panels and therefore compromises screening efficiency. These irregularities led Peter Freissle, Manfred's son, to choose injection molding instead for its consistency, durability, and overall quality versus competitive processes.
Since the creation of the first prototype, Polydeck has continually been committed to research and development of products and methods that lower the overall cost per processed ton for its customers. This uncompromising approach has resulted in screen panels that produce consistent high-quality results every time.
Consistency is Key (and the Proof is in the Product)
Polydeck's injection molding process involves heating the raw material of proprietary polyurethane or rubber blends into a liquid state and injecting it under extreme pressure into a cavity containing a wide range of mold geometries required to make each specific product. These components and geometries allow a myriad of combinations relating to the aperture size and shape, fastening type, and surface features, while producing panels that minimize any trapped air and/or voids inside the panel which compromise integrity. The entire process is carefully calibrated and computer controlled to monitor key process indicators from panel to panel, minimizing operator errors, and ensuring consistency.
As a privately-owned company focused solely on effective screen media solutions, Polydeck has the flexibility and a range of more than 1,500 screen panel design options to suit virtually any screening need. The injection molding process can produce panels in minutes, not hours, enabling the company to feature the shortest lead time in the industry on non-stock screen panels. By using superior materials during manufacturing, Polydeck is able to ensure consistency in construction and repeatability from panel to panel. This means more product can be screened, leading to higher payouts and an overall more efficient screening process.
Ultimately, when choosing screen media, producers should consider the quality and value of the media, and base their decision on the overall costs saved over the life of the screen panel. Compared to media options sold at a lower cost, Polydeck screen media offers a range of time and cost-saving benefits that no one else can offer.
To learn more about Polydeck's injection molding processes and how you can save money and screen materials more efficiently, contact a Polydeck screen media expert today!
"You Lose Open Area When You Switch from Wire Cloth to Synthetic Media."
Lots of facility operators still believe that if you switch from wire cloth to modular synthetic media screens, you will lose open area on your deck. As more producers try synthetic media, however, they enjoy greater throughput and uptime with maximum open area and extended wear life, proving this idea to be a myth.
Case in Point
Winter Brothers Material Company is a family-owned sand and gravel operation supplying the aggregate needs of the St. Louis area for 70 years. The two founding brothers, George "Pete" Winter and Robert A. Winter led river trips in the region during the 1930s, and after serving in World War II, they returned to the area and established the company in 1946.
Located on the Meramec River, a tributary of the Mississippi, Winter Brothers mines an alluvial deposit with unique particle shape, uniformity, and purity. "Our region is blessed with the availability of the consistent-grade gravel and the lignite-free sand deposited by nature in this river valley," says Ryan Winter, a member of the Winter Brothers management team.
More than 70-percent of the company's products are used in the ready-mix industry and perform well in a variety of Portland cement mixes. Products are also targeted to the roofing, masonry, asphalt, landscaping, septic systems, and extraction well industries.
The Challenge
At its Hagemann Plant, the facility's main screening circuits produce six different sizes of coarse aggregates along with two sizes of sand products. "Since opening the plant, we had always used wire cloth on all the decks of each screening circuit," says Winter, who admits that his management team had long resisted the use of synthetic media due to concerns over loss of open area and diminished production capacity.
Something they had not taken into account was the amount of open area they were losing due to material pegging and blinding. The wire cloth panels they used were advertised as having "maximum" open area, but as Winter tells it, "They would blind up within the first couple of weeks, and we would lose a significant percentage of throughput."
Further issues arose with downtime due to screen maintenance during busy periods, when the plant beefs up production. Each of their decks utilized five 4-ft. by 8-ft. sheets of wire cloth, so Winter recalls that this was a critical issue for him.
"When one of those screens would blow out, we'd have to shut everything down, pull workers off of other jobs, bring in a crane, switch out the screens—all of that would take several hours out of the production day each time it happened." Additionally, whenever a wire cloth screen suddenly blew a hole, oversize material would fall through and contaminate the product stockpiles.
So Winter, along with Plant Superintendent Steve Klahs—a 30-year industry veteran—began to take a hard look at synthetic media because they wanted to better understand the benefits and pitfalls of switching. Fortunately, they called Polydeck for advice.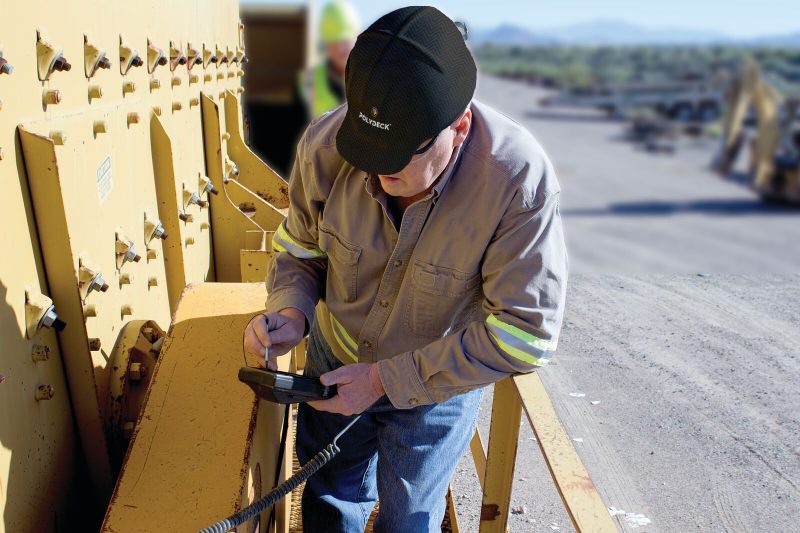 The Assessment
After talking with several synthetic media manufacturers, Winter says that he chose Polydeck due to our expertise and professionalism, and because of his strong relationship with local Polydeck dealer, CT Fike Co.
"Dan Fike was very proactive," Winter explains, "He brought in key members of the Polydeck team to closely examine our processes so that they could specify the right panel types for our applications and gradations."
Joe Teague, Vice President of Sales, but at the time served as Polydeck's Regional Sales Manager, worked closely with the Winter Brothers management team. He demonstrated to them that their concern about loss of open area lies in how "open area" is typically defined and calculated.
"Published open area percentages result in miscalculations in the specification of the screen area and vibrating screen size required for a given application," Teague explains. "Many wire cloth catalogs list percentages of open area which figure in all the openings in a section of screen. Upon installation, however, a portion of those openings are blocked by bucker bars, crown rubber, clamp rails, and center hold-downs. This means that the open area is significantly smaller, causing calculations to be off by up to 40-percent or more."
In the case of many synthetic media brands, the open area is often calculated by simply ignoring the border. "The traditional panel has a large border or "dead" area around the perimeter that often is not taken into account," says Teague, "So again, that means the open area percentage is overstated for these products."
Teague showed Winter Brothers management that when engineering firms and end-users use these inaccurate open area calculations in their plant flow analysis software, the plant may be designed with undersized or oversized vibrating screens.
Teague's advice to them was a revelation: Open area should be calculated by taking the total number of openings in the screen panel, and determining the percentage of actual open holes versus the complete surface of the panel itself. He suggested that Winter Brothers take a very basic approach to comparing the open area between two manufacturers by simply counting the number of holes on each screen panel.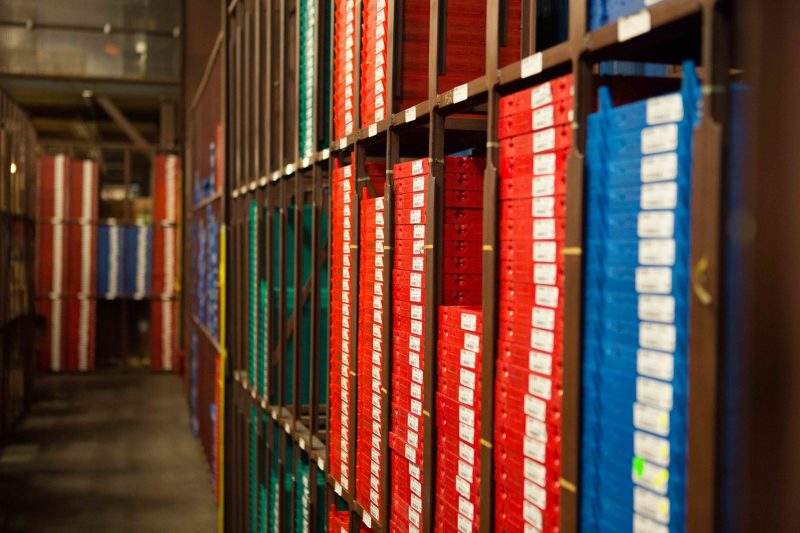 The Solution
The goal was to make sure that the circuit kept pace with the crushing side, so Polydeck's approach began by correctly matching the media to the vibrating screen parameters, selecting from our library of more than 1,500 screen panel design options.
We reviewed all the product mixes to identify any potential gradation inconsistencies and plant bottlenecks, and make any upfront adjustments. After capturing the critical processing statistics, we ran "what-if" scenarios to optimize the media specifications to Winter Brothers' applications, and determine how any changing variables within the screening operations would affect overall efficiency.
According to Winter, "Polydeck guaranteed us that their panel configurations would allow us meet the required specifications. If not, then they would make any necessary changeouts at their cost. That gave us a lot of confidence when switching so many decks to synthetic media."
At the end of the assessment, Winter Brothers made the decision to install Polydeck's modular polyurethane media panels.
The Results Speak for Themselves
Since installing the synthetic media, Winter Brothers has consistently met industry specifications.
"Since we switched out, we have only had to replace a few panels on the impact areas. We're very happy with polyurethane's increased wear life because, when we were using wire cloth on those decks, we were changing out a screen or two on a weekly basis," says Klahs.
While Klahs once thought switching from wire screens would inhibit production, he now acknowledges that the use of synthetic media is saving their operation time and money. "We're seeing an unbelievable increase in production—nearly double— particularly on the fine sand," he says. "In addition, the open area on the polyurethane panels gives us excellent throughput. We are particularly impressed by the open area we get on our masonry sand processing."
For Ryan Winter, the durability and resulting labor cost savings of using polyurethane panels is the chief selling point. "Our material is very hard," he explains, "While typical limestone is a 3 to 4 on the MOHS scale of hardness, our sand and gravel is a 7 to 8. So, while throughput and open area are important, durability is critical."
"We're very pleased with the years of wear life we're getting from these panels, and the maintenance crew can catch any wear issues before they become a downtime or contamination problem. If QC samplings are slightly off, the maintenance crew knows to check for wear. If they need to replace a panel, it only takes one individual a few minutes to pop out the worn screen and put a new one in."
"Sometimes businesses stay with the same old methods because that's the way they've always done things," Winter admits. "That's why we stayed with wire cloth for so long. But we eventually made the switch to Polydeck's synthetic media and we're glad we did."
Myth…busted!