Polydeck's new screen media solution maximizes throughput and product mix.
Aggregate Industries (AIUS) became one of the largest construction and building material companies in the US by stressing strategic sustainability, environmental stewardship, and long-term customer relationships. The company's Morrison Quarry—a 3-million-ton-per-year granite operation located in Jefferson County, Colorado—perfectly illustrates their mission.
Jefferson County is one of three counties in the six-county Denver region within AIUS' West Central Region that offers available sources of crushed stone. Because many of the potential aggregate resources in the Denver area are not accessible for extraction, the Morrison Quarry plays a key role in meeting the region's demand for high-quality aggregate materials.
Morrison Plant Manager, Trulane Vanatta operates a "sold-out" plant, meaning everything processed on a given day is sold the next. For him, he bluntly explains, "Throughput is everything."
As a result, the facility maintains a constant focus on boosting processing efficiency and production capacity. To eliminate bottlenecks at the screening circuits, the Morrison management team engaged with the engineering experts at Polydeck.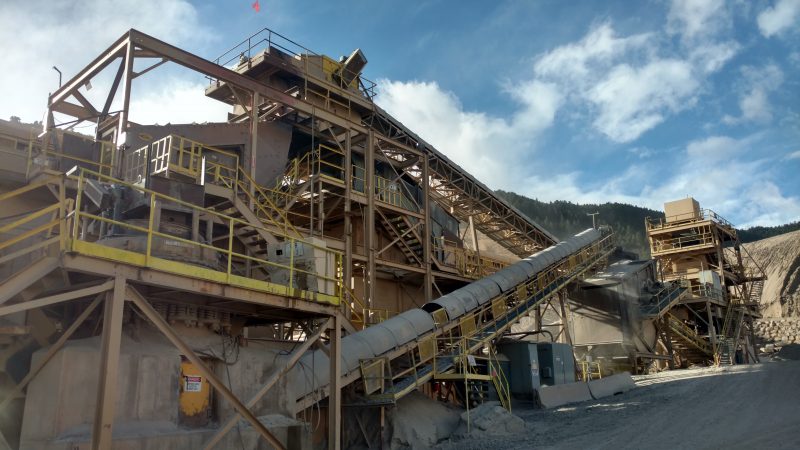 Reducing Recirculating Loads and Fines
Vanatta's team identified a problem in the tertiary circuit of the nine-screen plant. Their belt samples indicated a high bed depth on the middle decks of the circuit's three screens. Each of the 8-ft. by 20-ft. triple-deck screens are key to the production of Morrison's #57/#67 (1-in.) material.
"That's our money maker; and we have to maximize its production volume," says Vanatta.
His team found a "troubling" 51% carryover, a bottleneck that was causing recirculating loads and producing excessive fines—a common production issue. "The first thing we thought of was replacing the middle decks on two of the tertiary screens with wire cloth to achieve more open area," recalls Vanatta.
As it turns out, however, Polydeck's Regional Manager, Sam Durnavich, was the assistant plant manager at the Morrison Quarry more than a decade ago, before joining the Polydeck organization. With his knowledge of the operation, Sam consulted with Morrison's management and worked closely with Polydeck's engineering team to create a media solution that would more effectively address their carryover challenge.
After a thorough analysis of Morrison's operation, Polydeck's production team designed and installed a brand-new product: DMAX™ screen panels, an ultra-high-open-area synthetic screen media system that significantly boosts throughput, and allows the quarry to increase the production of its highest-value products.
Polydeck's new DMAX screen panels are intended for use where open area and throughput are the most important considerations. It's a modular synthetic screen panel solution that matches or even exceeds the open area of wire cloth, while delivering greater wear life and easier installation. The DMAX screen panel system can also be formulated with either rubber or polyurethane depending upon the application.
Exceeding Production Goals
Since installing the first DMAX screen panels on two of the middle decks in October, 2015, the operation has met and frequently exceeds their production goals. They've also achieved far greater screening efficiency, according to Vanatta—nearly 54% open area on their middle decks, compared to the 42% open area delivered by their previous screen deck. That's a dramatic 28.5% increase in open area. Morrison subsequently installed DMAX panels on a third middle deck in mid-2016.
"For us," says Vanatta, "The increase in open area resulted in an 11% increase in the production of profitable 1-in. rock, and reduced fines by nearly 1%. The only downside to the open area is that the panels wear a little faster—but that's essentially irrelevant as the profit from the tonnage increase pays for the screen media investment more than ten times over."
The Morrison quarry also employs Polydeck's Rubberdex® modular screen panels on the top and bottom decks of their 8-ft. by 20-ft. tertiary screens.
Engineering Expertise
Explains Polydeck's Sam Durnavich, "We made the DMax panels with bridges that are half the width of those on our standard maxi panel, but much deeper. That's important, because reducing the bridge width between apertures allows more openings in the screen panel surface, which translates to increased product pass-through."
"Contributing to additional open area is the fact that DMax panels are designed to fit on existing Polydeck PipeTop II stringer systems," continues Durnavich. "This framework system features unique half-inch-wide attachment rails instead of the mounting styles on conventional frame systems with up to 3 in. of dead space where fines build up. Furthermore, our in-house tooling capabilities allows us to provide many more options in these frame systems—from varying fastening options, material options, and stringer styles and types."
"The increase in open area does come with a reduction in screen panel wear life," Durnavich admits, "But when compared to standard-duty screen panels, the DMax panels are running at only 20–25% less wear life, which still exceeds that of wire cloth."
"Our use of injection molding is a big factor in the ability to create extreme open-area synthetic panels," adds Durnavich. "Injection molding ensures that every screen panel has accurate opening sizes and shapes, and is thoroughly cured throughout."
"Our actual field results in several applications have demonstrated production increases all the way up to 50%, and screening efficiency increases of more than 25%," says Durnavich with a smile.
Polydeck continues to expand the range of available apertures in the DMax series, with square openings from 12.5mm up to 32mm, as well as slotted openings from 3x20mm up to 25x74mm.
It's often said: If there's a bottleneck at a plant, it's probably at the screening circuit. Throughput is everything at the Morrison Quarry, so continually increasing screening efficiency is essential to their ongoing profitability and product quality. Working together, the Morrison Quarry and Polydeck solved an immediate problem and created a long-term solution.